Play table tennis at Fullhurst on Wednesdays and Fridays
Table tennis is extremely popular at Fullhurst Community College. In partnership with Aim Strong Sport, we are able to offer a range of opportunities and support for students to take part.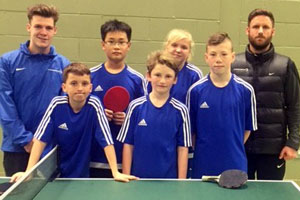 Table tennis on Friday evenings
We are pleased to announce that we are now offering two new table tennis sessions at Fullhurst on Friday evenings 6-7pm and 7-9pm. The 6-7pm session is open to Fullhurst students, free of charge.
The 7-9pm session is open to the wider college community. Students are invited to bring along parents, carers, grandparents and siblings - come along and spend some quality family time having fun, developing new skills and keeping fit. All equipment provided. Just turn up in comfortable sportswear. The cost of each session is £3 per player or £2 for juniors. (The first session is free of charge). Whether you are a regular player, or totally new to the sport, you will be made very welcome.
Table tennis on Wednesdays after college
On Wednesdays 4.30-5.30pm, we will continue to offer a free session for Fullhurst students. We'd particularly welcome year 7 and 8 students .
Five reasons to try table tennis
Table tennis is good for your physical health and keeps you mentally sharp.
Table tennis is gentle on the body; you can play according to your own capabilities and limitations.
Everyone can play table tennis; there are no age or gender barriers.
You can pretty much play anytime and anywhere; table tennis is an indoor, non-seasonal sport.
Table tennis is great fun and a great way to make new friends . It's easy to play, yet difficult to master.
Aim Strong Sport specialise in running after school football, multi-sport, leadership and table tennis clubs. All of their coaches are as a minimum; NGB Level 2 qualified, CRB checked, fully liability insured and linked to local clubs to ensure the opportunity for progression.