Dramatic changes on a weekly basis over at the expansion site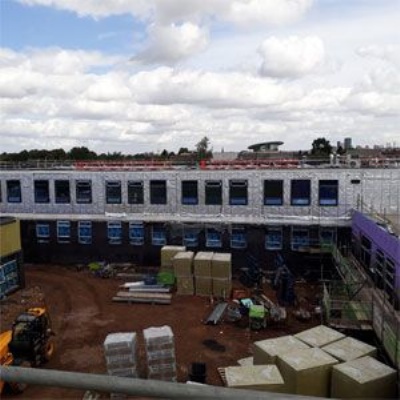 Work is continuing at a rapid speed on the Fullhurst Fosse Campus. It really is starting to look like a school building ready to house new students in just a few months time.
The two story modular block is now complete. The teaching rooms are painted and carpeted and are now just awaiting furniture. Walking around you can see how light and airy the space is; it will provide a comfortable working environment for both students and staff.
Refurbishment of the existing parts of the site is also progressing well, with the magnificent large main hall space and dining room almost complete. Cladding is starting to be installed to the exterior, bringing the two parts of the building together.
The Fosse Campus has been designed to echo the current Imperial Campus, with the blending of the traditional heritage of the front of the site with the new build at the rear. The continuity across the two sites maintains the college's strong branding and identity and will aid the transition of students between the two campuses.