Miss Dolan - Teacher of English (RQT)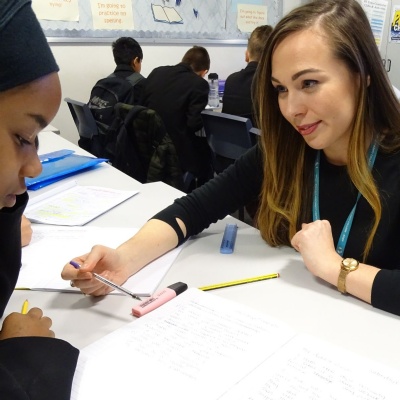 Miss Dolan, Teacher of English (RQT)
Describe a typical day at Fullhurst Copmmunity College:
8am - I arrive at school in time to check over emails and make sure I've sorted my resources for the day, and try to squeeze in a coffee and a chat before the first meeting or briefing – which informs us of our focuses for the week. Next, Form time with my awesome form 7IDO, where we may be reading in the library, testing our knowledge through quizzes or working on our reading project. The first two lessons whizz by before break. If I'm not on break duty I'll clear up from the previous lessons and prepare for the next two! Two lessons after break before lunch, with which it may be time to see some students for detention, before heading to the English staffroom for a natter and a squashed sandwich before it's time for the last lesson of the day. When the bell signifies the end of the day, it's not really – as I'll catch up on marking or planning if there's not a department meeting.
What motivated you to train as a teacher?
I decided to become a teacher because I've always believed that education is a powerful tool that can change the world. Every child has the right to a great education and I really wanted to help young people achieve their potential, especially when it's not yet realised. I also love my subject, English and think it's amazing that I get to broaden their horizons through some amazing texts.
Why did you choose to train at Fullhurst?
I started at Fullhurst in 2018 as a SCITT Trainee and from my first week I knew I wanted to stay on. I chose to teach at Fullhurst because I was greatly supported by my colleagues in the English faculty and across the college who share the same ambitions that I do. The culture here is driven by a shared aim of wanting to give our students the very best education possible so that they achieve not only academically but personally too. It's a really diverse and inclusive community, filled with incredible students who are so supportive of each other too. Also, no day is ever the same! Every day at Fullhurst gives me the opportunity to impact the lives of young children and make a real difference to the community of Leicester.
If you had to pick three qualities/skills you think are most important for training in teaching, what would they be?
Three skills that are most important for training to be a teacher: empathy, resilience, and enthusiasm!
Is there a new skill you'd like to learn?
A new skill I'd like to learn is teleportation! However, a more realistic skill would be how to juggle my work life balance and get everything done that's needed.
If you could travel anywhere, where would you go and why?
If I could travel anywhere, I would go to Japan to see Mount Fuji and the Spring blossoms. I have a bucket list as long as my arm of places I want to visit, and sometimes when work overtakes life, it's nice to remember that I can recuperate from a long term at work with a trip abroad! I've already booked my flights to America this summer for an American road trip.