Behaviour
Fullhurst Community College aims to produce confident, responsible, well-educated students who can fulfil positive roles in society. We believe that learning takes place in an orderly, purposeful environment.
Students are expected to act in a sensible, courteous and responsible manner at all times, respecting other people, their property and contributing to a happy, learning environment.
Students' language should never be offensive and students should show respect for others by their behaviour.
Students should present themselves as good representatives of the college at all times.

Rewarding positive behaviour
At Fullhurst we are very proud of the excellent attendance, punctuality, attitudes to learning and achievement of our students. Positive behaviour is consistently acknowledged and celebrated, raising self-esteem and confidence amongst students.
Positive behaviour is recognised through the awarding of Fullhurst achievement points. Achievement points are awarded to students for good attendance, behaviour, punctuality and excellent work. These achievement points lead to students being awarded our Bronze, Silver and Gold achievement badges which are linked to percentages off the cost of end of term reward trips.
Positive behaviour is recognised and rewarded in every lesson through direct praise.
Positive behaviour is communicated to parents and carers through phone calls, text messages, postcards and faculty certificates.
Rewards trips are run during the course of the academic year.
At the end of each half term we will celebrate these achievements in assemblies, during which faculty achievement badges will be awarded to students in all year groups.

Lateness
It is important that students arrive on time to each and every lesson ready to start their learning.
If a student is late to a lesson (after the late bell), they will be given a 5 minute detention with the class teacher (the detention can take place at break, lunch or after college). If the student fails to complete their 5 minute detention, then then this will automatically be increased to a 20 minute faculty detention to take place at lunch time or after college.
If a student is late to lessons twice in a day they will be given a 30 minute detention after school.
If a student is late to school they will be given a 30 minute detention after school.
If a student is late to school twice in a week they will be given an hour detention after school, which parents / carers will be informed of.

Behaviour protocol
At Fullhurst, our aim is to ensure students learn successfully in a safe environment. If this is affected then staff follow this protocol: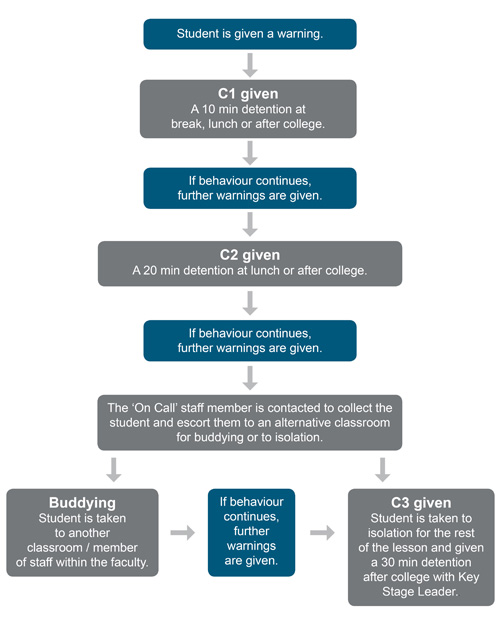 Further detail can be found in the Fullhurst Behaviour Management Policy. Should you have any queries or concerns regarding behaviour, please speak to the relevant Head of Year.