Behaviour
Fullhurst Community College aims to produce confident, responsible, well-educated students who can fulfil positive roles in society. We believe that learning takes place in an orderly, purposeful environment.
Students are expected to act in a sensible, courteous and responsible manner at all times, respecting other people, their property and contributing to a happy, learning environment.
Students' language should never be offensive and students should show respect for others by their behaviour.
Students should present themselves as good representatives of the college at all times.

Rewarding positive behaviour
At Fullhurst we are very proud of the excellent attendance, punctuality, attitudes to learning and achievement of our students. Positive behaviour is consistently acknowledged and celebrated, raising self-esteem and confidence amongst students.
Positive behaviour is recognised and rewarded in every lesson through direct praise.
Positive behaviour is communicated to parents and carers through phone calls, text messages, postcards and faculty certificates.
Achievement points are awarded to students for good attendance, behaviour, punctuality and excellent work. Points are then redeemed to receive a percentage off the cost of end of term reward trips.
Rewards trips are run during the course of the academic year.

Behaviour protocol
At Fullhurst, our aim is to ensure students learn successfully in a safe environment. If this is affected then staff follow this protocol: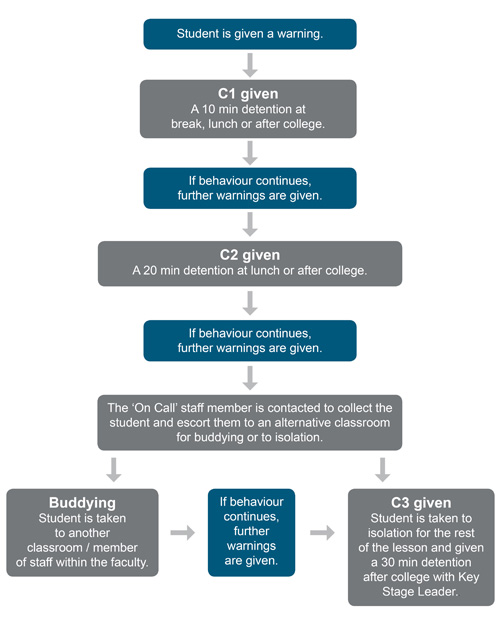 Further detail can be found in the Fullhurst Behaviour Management Policy. Should you have any queries or concerns regarding behaviour, please speak to the relevant Head of Year.