Student Leadership and Student Voice
Provision of opportunities for student leadership is a named intention on the whole-school development plan. In KS3, the Fullhurst Pledge provides all students with opportunities to enhance their leadership skills. In KS4, there are a range of leadership roles students can take on including becoming a sports leader, a peer to peer reading buddy or a prefect In addition to this, there are annual events upon which students lead, for example Anti-Bullying Week, charity events and Student Takeover Day.

Prefects
From the moment students join Fullhurst, we encourage them to aspire towards becoming a year 11 prefect. Prefects are selected on the basis of reflecting the key values of the school. We expect applicants to have very high attendance with exemplary punctuality, exceptional behaviour records and the highest standards of uniform. Similarly, their conduct in and around the college must be beyond reproach.
We ask prefects to represent the school in many ways, including escorting visitors on tours of the site on open evening and parents frequently comment that they are a credit to the college. Prefects also provide invaluable support to younger pupils in particular, through supporting staff in their designated roles at lunchtime and helping to guide new pupils through the transition process.

Student Voice
Student leadership and responsibility are encouraged at Fullhurst through a variety of activities and a well-represented student council. We call this 'Student Voice'. A representative cohort of pupils represent the views of the student body. 'Student Voice' representatives meet weekly throughout the college year to speak on behalf of their peers about their ideas on how we can improve the college. 'Student Voice' is important because it provides the student body with a forum where their needs are listened to and understood, and where they are actively encouraged to take on responsibility and leadership.
Furthermore, as part of the college's calendared Quality Assurance process, the views of the students across all year groups are surveyed regularly. This is so as the quality of provision is continually evaluated and that students feel a greater sense of ownership over their school. This surveying is now part of the whole-school calendar, so as improvements can be evaluated across the different areas of the college on a consistent basis.

You said... We did!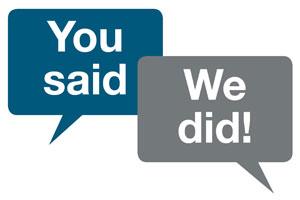 We are committed to acting on your feedback whenever possible, so we want to show you some of the great changes we've made in response to students' comments.
You said: a priority of the college should be to continue to improve sports facilities.
We have built a fully equipped gym and invested in a brand new 3G artificial grass pitch, both of which are used during PE lessons and also at lunchtimes and for extra-curricular clubs.
You said: that the logistics of the dining hall need improving.
We have incorporated more points of entry into the recently extended and refurbished dining hall so as queues are minimised. We have also reconfigured the seating arrangements in the dining hall so as there is more space. The main hall at now also open at lunchtime as an option for students who bring a packed lunch.
You said that the rewards systems in school are effective but in need of a refresh.
We are working with our Student Voice representatives to continue to evaluate the rewards systems, with ongoing discussions continuing amongst staff also.