Thanking Sgt Horn for his help getting Fullpower on air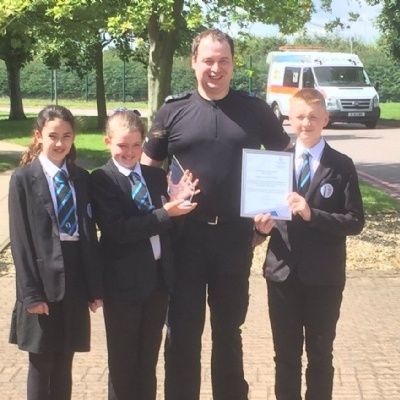 Three students from Fullhurst Community College visited Leicestershire Police Force Headquarters to present Sgt Aaron Horn with an award in recognition of his help in getting the college's community radio station on air.
We are the first college / school in the UK to have a fully set up, professional, online community radio station which is run by students. Aaron Horn's assistance has been instrumental in helping to purchase, build and set up the 'kit' ready for broadcasting. Alongside his busy day job as a Police Sergeant, Aaron has worked tirelessly to support the creation of Fullpower.fm, voluntarily spending his days off guiding staff and students in the technical aspects of radio broadcasting.
Caroline Ward, Behaviour Mentor and Creator of Fullpower said: "We wanted to do something for Aaron to show him just how much we value his continuing support. His skills and expertise have been invaluable."