An 'out of this world' National Enterprise Challenge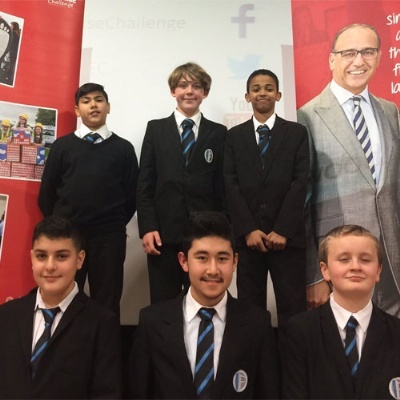 All year 8 students took part in the Ryman National Enterprise Challenge on Tuesday 15 November 2016. This full day enterprise programme is open to all secondary schools in the UK and over the past four years 100,000 students have participated in the challenge.
Working in teams of six, the students worked on a real life business challenge which this year was set by the UK's number one theme park, The Alton Towers Resort. The task was to design and develop a new live event or attraction based around the theme of their new roller-coaster 'Galactica', the world's first fully integrated virtual reality roller-coaster. The students were asked to create an idea, linked to a space/galactic theme, which The Alton Towers Resort could make a reality.
Facilitators led the students through a range of tasks including mind mapping, profiling the target market, developing branding and exploring how to promote their event. The tasks enabled all students to develop their enterprise and employability skills including teamwork, communication, leadership and creativity skills.
During the final session of the day, eight teams were chosen to present their idea to the audience and judges from the Maths and IT faculty. Each team did an amazing job, conquering their nerves, to pitch their idea in front of the entire year group.
Huge congratulations go to the winning team, Galactica Eve, who will represent Fullhurst Community College at the National Finals. They will have the opportunity to pitch their idea on stage to former Dragons Den star Theo Paphitis and a panel of high profile judges. Jonathan, a member of the winning team Galatica Eve, said; "This event inspired our creativity, the overall experience was something I'll never forget."
Mr Modi, Business Studies Teacher and Enterprise Co-ordinator, stated; "First and foremost I'd like to thank The National Enterprise Challenge team for giving Fullhurst students the opportunity to experience what it takes to be part of a real life Alton Towers project. The challenge was engaging and exciting for the students and all the staff involved, with many year 8 students wanting to learn more about businesses and marketing campaigns by the end of the afternoon. I was particularly impressed by the students' promotional campaigns, with a number of groups identifying Fullhurst's radio station 'Fullpower FM' as a key promotional tool. On behalf of Fullhurst, I'd like to thank The National Enterprise Challenge team for a fun filled day of learning and an overall outstanding experience!"