Two leading managing directors offer career advice to year 9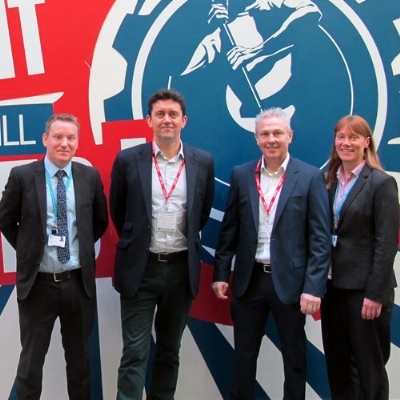 Managing Directors from two leading Leicestershire companies spoke to year 9 students this morning about their journey to where they are now and what employers are looking for as part of Leicestershire Cares 'Speedy Speakers' sessions.
Sue Mason, Leader of Enterprise and Employability, Fullhurst Community College, said: The students were really engaged listening to a very interesting assembly and came away full of the messages to try their hardest and make the most of the opportunities that are given to them.
Chris Haywood, Managing Director of NMBS, inspired the students with the story of his journey from apprentice to Managing Director. He encouraged the young people to 'be the best you can'. He puts his success down to his scary science teacher telling him that he was capable of more if he tried harder. "I really enjoyed today and what a great school, who are doing some great things with their students – Brilliant!" Chris Hayward, Managing Director, NMBS
Stephen Gould, Managing Director of Everards Brewery, gave great advice using the acronym POLITE:
Practical – if you are better at hands on tasks than academic work that is ok, because employers need your skills.
Opportunities – make the most of what is offered to you.
Listen – you have two ears and one mouth and you should use them in that order.
Improving – don't aim for the unachievable but make small incremental improvements which will add up over time.
Teamwork – successful companies succeed due to the whole team, not one person.
Effort – try your hardest.
The 'Speedy Speaker' event was organised ahead of year 9 students making their decisions regarding options subjects to study through to GCSE . Both speakers stressed the importance of attitude and always trying your best.
Huge thanks to Chris and Stephen for such inspirational presentations and great advice.