Careers week activities for all year groups at Fullhurst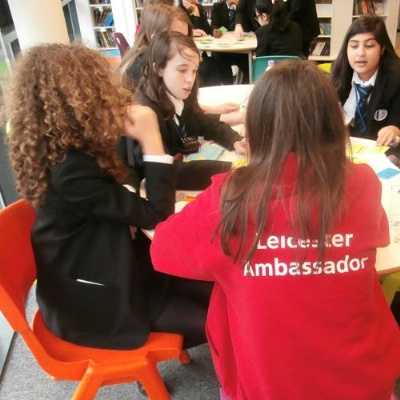 Fullhurst Community College students benefitted from a variety of exciting events during National Careers Week 7-10 March 2017 organised by the college's Leader of Enterprise and Employability, Ms Mason.
National Careers Week (NCW) is a celebration of careers guidance in education across the UK. Throughout the week Fullhurst students were able to engage with students, mentors and local employers through a wide variety of events and activities.
The whole college took part in 'The Big Assembly' on Tuesday 7 March; a live video stream to thousands across the UK wanting to find out more about apprenticeships and career options post 16. Aiming to get over 5,000 log-ins and set a new Guinness World Records title in the process, it was an informative and memorable event.
On Wednesday 8 March, year 9 students visited the NHS and Caring Professions event at Leicester Racecourse. The event, which was staged by Health Education England in the East Midlands,. showcased a huge range of careers in the health and caring professions. With plenty of interactive demonstrations and 'have a go' stands, and lots of opportunities to talk to key people, students were able to find out more about jobs, courses and apprenticeships.
On Friday 10 March, the whole of year 7 took part in workshops with Barclays Lifeskills and the University of Leicester. The Barclays Lifeskills workshop was facilitated by leading mentor Onyi Anyado and focused on helping students to identify behaviours that employers don't want to see and behaviours that will help them make the right impression, fit in and progress in their job. During the second part of the workshop, Onyi introduce students to the key personal skills employers seek in young people and which will help them get the most from life and work including a discussion on assertiveness.
The University of Leicester 'Skills for Success' workshop, led by the Widening Participation Team, explained to students how to:
understand the difference between skills and personal qualities,
be aware of a range of transferable skills, and how these might apply to school work and future careers,
recognise strengths in relation to transferable skills,
identify skills they would like to improve.