Finding out about apprenticeships at Ford and Slater DAF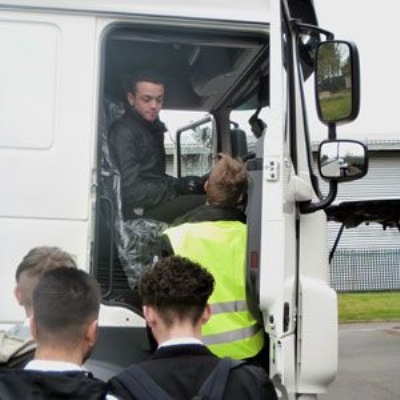 Current DAF truck technician apprentices spoke to KS4 students about their apprenticeship journey as well as providing information about opportunities on offer at local dealerships.
The UK moves more goods by road than any other European country. It's hardly surprising then that the road transport industry is one of the UK's key industries employing over half a million people.
The DAF Trucks National Dealership Apprenticeship Programme provides the opportunity to join a select group of specialists technicians, working on some of the most modern and sophisticated trucks on the road. It is a government approved 'traditional' apprenticeship scheme - a challenging three year programme that combines hand-on practical workshop training with block release for college training and study.
Current Ford and Slater apprentices chatted to KS4 students about their background and apprenticeship experiences and explained entry requirements and well as how to apply. Our students were also invited to take a look over the brand new truck that they had brought along with them and were even allowed to take a seat behing the wheel!
Further information about DAF Trucks apprenticeships can be found on their website: www.daf-apprenticeships.co.uk