Adding the 'WOW' factor to Fullhurst's white walls!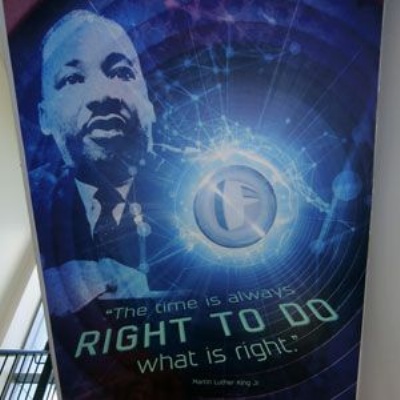 It was a long, hot installation day but the results are incredible! To be able to see the finished designs on the walls is amazing. Our aim was to continue to build upon the positive environment of our light and airy college building, by creating a series of rich and inspiring wall graphics to motivate and encourage Fullhurst students; we are thrilled with the final results!
After researching several options, we commissioned Fusional. Working with Mel and Phil has been a pleasure. Their friendly and professional approach from initial enquiry through to final completion, ensured the project was huge success.
The immediate impact when arriving in college via student reception is immense. The design encourages students to enter the doors into college and achieve, be awesome and succeed. Our feature wallscapes in the foyer aren't just decorative; they boldly represent the college's brand identity whilst inspiring students to 'strive for success and do their best everyday'. The English and Science corridor wallscapes compliment the curriculum by displaying educational information and creating a visual resource for staff and students.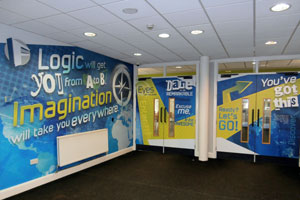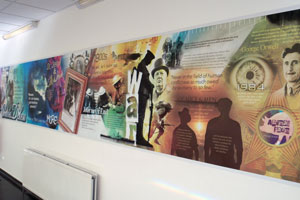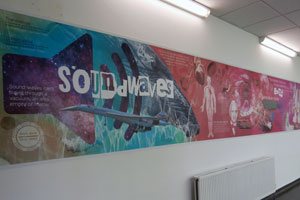 Diana Walker, Marketing Development Officer, said: "I know that I made the right decision to commission Fusional when yesterday I walked past a student and member of staff discussing the literary quotes on the English literature timeline. Later in the afternoon, I spotted several year 7 students gazing with awe at the stairwell designs!"
"The wallscapes get everyone's attention, raise aspirations and create an inspiring environment in which to work and learn. Mel and Phil at Fusional were wonderful to work with. We asked for many different variations during the process and they were very patient in working with us to create the outstanding designs. They are both very professional and have great ideas. Thank you again!"