Another dazzling display by Fullpower at the Shine School Media Awards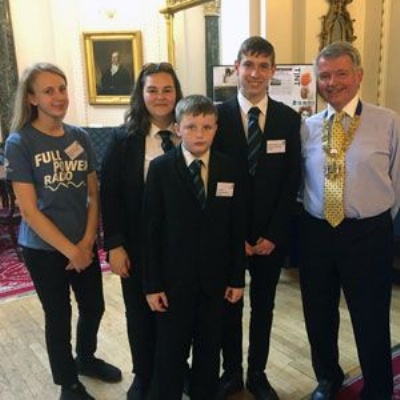 After receiving great feedback following the 2016 event, Fullpower were again invited to attend the Shine School Media Awards at Stationers' Hall in London on Monday 19 June 2017 to broadcast live from the event.
The Shine School Media Awards are an exciting initiative for schools and teachers to put pupils' media and communications achievements in the national spotlight at the same time as forming part of coursework.
This is the second year that Fullpower have taken part and having a live radio broadcast at the awards turns it into a truly multi-media event. The four students who were selected to attend the event, work hard to prerfect their presenting and interviewing skills in the weeks leading up to the broadcast. We are extremely proud them!
As a direct result of Fullopwer's involvement, the Shine School Media Awards are to introduce a school radio category for the awards in 2018 which we very much hope to be part of.
The Fullhurst radio team... are a perfect example of what Shine is all about – enthusiasm, talent and determination. Our mission is to find and encourage students to find something they are passionate about and help and support them on their career pathways. Annie Hotton, Shine School Media Awards Chair