Year 10 business studies students pitch their ideas to BT board members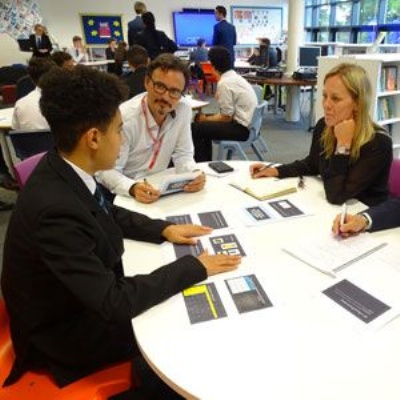 As part of our Enterprise Adviser Network relationship with BT, their East Midlands board moved their regular board meeting to Fullhurst Community College today so that they could meet with students and take part in a Dragon's Den type business event.
The visit was organised by BT's Kasam Hussain, who is our Enterprise Advisor - part of a government-led scheme that links volunteers from the business world with schools and colleges. The programme is overseen locally by the Leicester and Leicestershire Enterprise Partnership (LLEP). After holding the first half of their board meeting, students from year 10 pitched their business presentations to the BT board as part of a Dragon's Den type event. The standard was phenomenal; it was clear that a great deal of research and preparation had taken place. Having heard all the presentations, the board members deliberated intensely before awarding prizes for the business they would most like to invest in as well as the most creative pitch. The BT team ended their visit by taking part in a paired reading session and offering reading support to KS3 students.
Steve Piggot, Acting Principal, said: "It was great to be able to welcome the team from BT into school. Being able to offer students the opportunity to do something different, and interact with business leaders, should not be underestimated. It's an important part of their development and helps prepare them for life after Fullhurst. A huge amount of effort went in to the business session and I'd like to congratulate everyone that took part."
A huge thank you to Kasam and all of the BT board members for their valuable advice and input. We look forward to further developing our partnership over the next academic year.