Galactica Eve reached new heights pitching to Theo Paphitis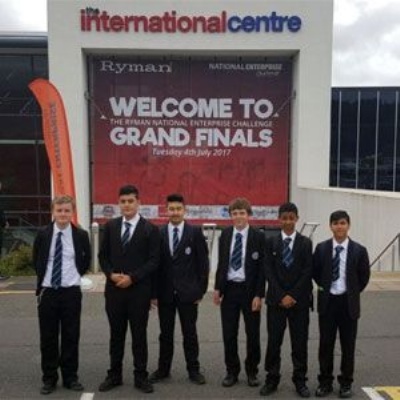 Galactica Eve represented Fullhurst at the grand final of The Ryman National Enterprise Challenge 2017 at The International Centre, Telford.
Earlier this year teams of year 8 students worked on a real life business challenge set by the UK's number one theme park, The Alton Towers Resort. The task was to design and develop a new live event or attraction based around the theme of their new roller-coaster 'Galactica', the world's first fully integrated virtual reality roller-coaster. The students were asked to create an idea, linked to a space/galactic theme, which The Alton Towers Resort could make a reality.
Huge congratulations went to the winning team, Galactica Eve, who represented Fullhurst Community College at the National Finals last week.
Mr Modi, Business Studies Teacher and Enterprise Co-ordinator, stated; "The event was well organised with a buzzing 'X Factor' feel to it and gave the students an experience of competing against 125 schools from across the country. The students involved experienced a roller-coaster of emotions from last minute nerves to the excitement of meeting Theo Pathitis and Olympic Gold medallists from Rio 2016. It was brilliant to see the student's hard work over the past several months come to a conclusion and a worthwhile reward."