Bonjour, Konnichiwa, Hallo, Hola!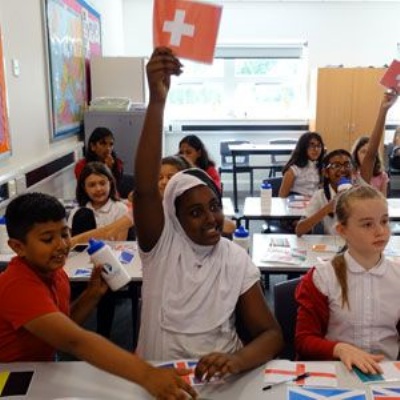 Pupils from Dovelands Primary School, Folville Junior School, Inglehurst Junior School, Shaftesbury Junior School and St Mary's Fields Primary School had a super day experiencing French, Spanish, German and Japanese language and culture.
The Primary Modern Foreign Language Days are one of the highlights of the Fullhurst calendar. Every year we welcome pupils and staff from our local primary schools to take part in four different activities taught by a range of Fullhurst staff.
Pupils enjoyed an authentic French breakfast of warm croissant, pain au chocolat and orange juice.
The day was then spent experiencing the French speaking world in Geography, Spanish through music and singing, German culture and traditions and Japanese through maths.
The following comments from the primary pupils at the end of the day sum up this successful annual event:
"It was the best day I have ever had in my life."
"I liked the way we had breakfast. I liked the teachers they were nice and kind."
"I learnt some new words and the year 9s were really nice as well."
"I enjoyed today, I liked learning all of the languages."
"I loved the breakfast and the Japanese class with all of the cultural background."
"I really enjoyed learning the languages today and I will definitely come in year 7. I also liked the posters around the school. Thanks for an amazing day!"