We're so proud of Megan and Mrs White - our 'Fullhurst Heroes'!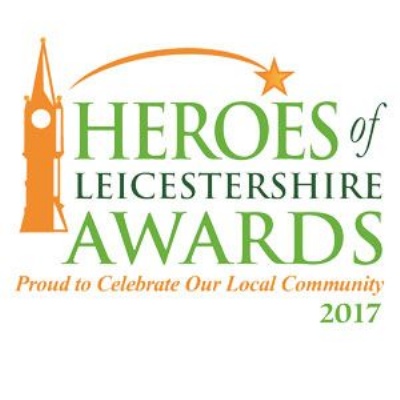 Year 8 student Megan and Key Stage 4 leader Mrs White were both nominated for Heroes of Leicestershire Awards 2017
The Leicester Mercury Heroes of Leicestershire 2017 culminated in an awards evening at Leicester City's King Power Stadium on Thursday 20 July, hosted by Leicester- born footballer Dion Dublin. Both Megan and Mrs White were runners up in their categories. Dion, now a respected football pundit and TV presenter, paid his own tribute to the winners and runners-up, telling them: "You should all be very proud of what you do – we are all very proud of you".
Megan, who simply refuses to allow her debilitating condition to hold her back in her studies, was nominated for the Young Hero of the Year award. Megan has neuromuscular difficulties. She has frequent muscle cramps as well as other body pain; however despite this, Megan continues to show much resilience and is a fantastic example to her peers. The way in which Megan overcomes the challenges she faces, with a smile at all times, is an inspiration to all.
Mrs White has been a dedicated member of staff at Fullhurst for a number of years and has certainly left a mark on the wider community of Braunstone. She was nominated for the Good Neighbour award for her role in initiatives such as the annual Christmas hampers. Every year staff and students contribute goods and food which are boxed and wrapped. The hampers are then delivered to local families who particularly benefit from the hampers they receive in the days leading up to Christmas.
Fullhurst Community College were so inspired by the awards that we also sponsored the Bravery and Courage Award which was award to Jo Sutton, who has been raising funds to support Hope Against Cancer, Leicester and Leicestershire and Rutland's local cancer research charity, even whilst she is fighting the disease herself.
Huge congratulations to Megan and Mrs White - our Fullhurst Heroes!