Dynamic DNA at The University of Leicester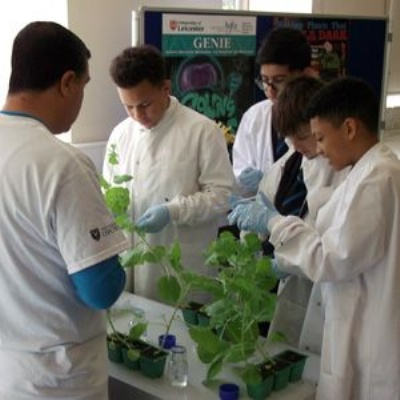 Year 9 students participated in science experiments at the home of genetics, The University of Leicester.
On Thursday 14 September, year 9 Fullhurst students were given an inspiring university style lecture on how genetic fingerprinting was discovered in Leicester, and how it is used to solved murder cases, and paternity disputes. They also found out about the detail of what DNA actually is.
This was followed by numerous hands-on practical activities such as extracting DNA from a banana, pair base sequences, making DNA models, comparing fingerprints to find out who is the father, and making a DNA bracelet.
Students participated in higher level science investigations such as gel electrophoresis and adult cell cloning. The workshop provided a great introduction into higher education and a future career in science.
Science teacher, Mr Majithia, said; "It was great to see our students succeed in practical work that is usually done at A level and degree level science."
Whilst students commented:
"My favourite was making the plants glow in the dark. It was amazing!"
"I enjoyed building the DNA models the most. This was the best trip ever!"
"My favourite was the survey to find out how unique I was."