Year 11 students practice their interview techniques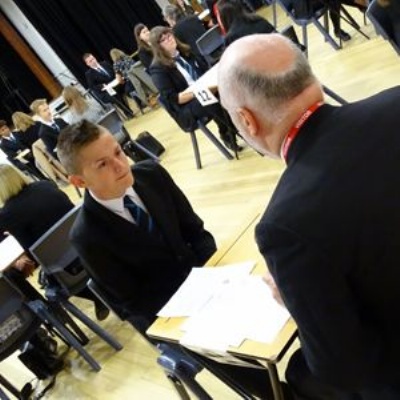 All year 11 students took part in our mock interview event this morning. The event was organised in partnership with Leicestershire Cares. We are immensely grateful to volunteers from local businesses for giving up their time to facilitate such a valuable experience for our students.
We were very pleased to welcome staff from local businesses including Santander, Nelsons, DWP, Nylacast, Spearing Waite and Leicester City Council. Each student had a 20 minute appointment. They had so much to think about, including how to make a good first impression and how to control their nerves! We were pleased to receive many positive comments about our students, their confidence and ambition and the preparation they had obviously done in advance.
Sue Mason, Leader of Enterprise and Employability said; "The students approached the interviews in a mature and self-assured manner, presenting themselves very positively. The tips and advice gathered are so useful as they prepare to apply for college and apprenticeships."
One student commented; "It was a really useful experience. She advised me to reformat by CV to ensure that the important things get read first. Thank you."
Whilst another said; "I found it very helpful – he told me to sell myself saying you only get one chance to make a first impression!"