Year 10 student, Dione, is a National Champion!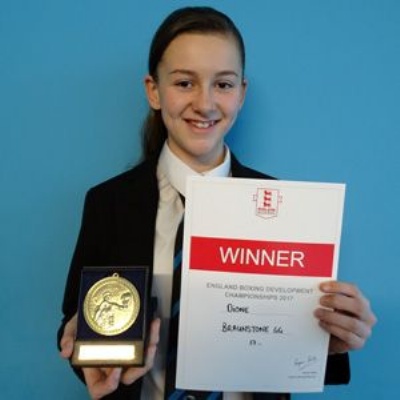 Huge congratulations to Fullhurst Community College year 10 student, Dione, who successfully became National Junior Champion (under 57kg) following a hard fought bout of three two-minute rounds at the England Boxing Development Championship Finals on Saturday 28 October.
We are extremely proud of Dione who gave the following account:
"I train really hard with the support of an amazing team, Monday to Sunday at Braunstone Golden Gloves. After winning the East Midlands Development Championships, I qualified for the National Championship Finals on Saturday 28 October. I was really nervous but I'd trained really hard with the club and had also been going on three mile runs, three times a week, after school. I knew I just needed to give it my all. The finals took place at Birmingham Solihull Leisure Centre. I boxed a nice girl called Kamile from Harrow. We fought three two-minute rounds and I won on a split decision. It was an amazing feeling!"