Inspiring conversations and great advice at careers speed networking event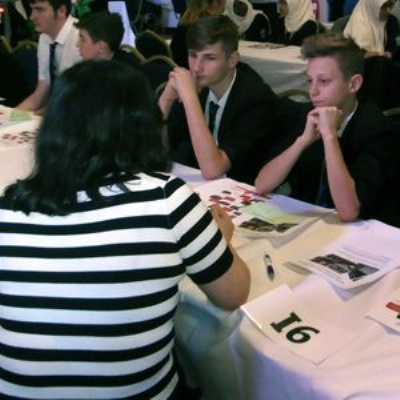 Organised by the Leicester and Leicestershire Enterprise Partnership (LLEP) and held at Leicester Racecourse, the event featured companies representing a wide cross-section of local industry and commerce.
The morning session saw students speed network under timed conditions with employers from a whole host of different businesses and public sector organisations such as Mattioli Woods, East Midlands Airport, Highcross Leicester, HORIBA MIRA, Pick Everard, BT , NHS, Santander and Morningside Pharmaceuticals Ltd.
Students were put into groups of three and spoke to different employers in bursts of six minutes. In that time they asked employers about their job roles, organisations and the steps to employment. Fullhurst students met with a solicitor, an engineer, a NHS recruiting executive, a marketing officer, a pharmacist, a CEO and a mechanic.
All students reported that they found the event useful stating that as a result of the networking event they now:
knew more about what is involved in different careers,
learnt more about the range of jobs with different employers,
knew more about apprenticeships,
learnt about jobs they didn't know existed
and learnt more about employability skills.
All said that they would recommend careers speed networking to other students as a good source of information about potential career choices.