National Enterprise Challenge to design a fun, educational activity for Kidzania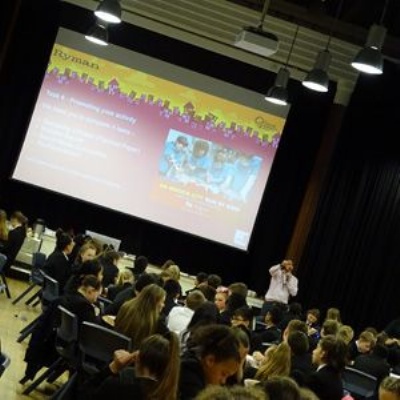 All year 8 students took part in the Ryman National Enterprise Challenge on Thursday 16 November 2017. This full day enterprise programme is open to all secondary schools in the UK and over the past five years 140,000 students have participated in the challenge.
Working in teams of six, the students worked on a real life business challenge which this year was set by the KidZania, a new attraction which blends learning and reality with entertainment. The KidZania Challenge tasked students to devise a new activity which could join the existing 'careers' available for kids at KidZania. National Enterprise Challenge facilitators led the students through a range of tasks including mind mapping, profiling the target market, developing branding and exploring how to promote their event. The tasks enabled all students to develop their enterprise and employability skills including teamwork, communication, leadership and creativity skills. During the final session of the day, eight teams were chosen to present their idea to the judging panel. Each team did an amazing job, conquering their nerves, to pitch their idea in front of the entire year group.
Huge congratulations go to the winning team, with their 'top secret' activity idea, who will represent Fullhurst Community College at the National Finals in July 2018. They will have the opportunity to pitch their idea on stage to former Dragons Den star Theo Paphitis. Shae, a member of the winning team said; "It was a brilliant day. I liked working with my team and enjoyed thinking about what the activity would be. I can't wait to go to the finals!
Mr Modi, Business Studies Teacher and Enterprise Co-ordinator, stated; "First and foremost I'd like to thank The National Enterprise Challenge team for giving Fullhurst students the opportunity to experience what it takes to be part of a real life project. This year, we were pleased to welcome our business partners from Pedigree Filbert Business Consultancy Ltd, Bakers Waste Services and Schoolwear Solutions to form a judging panel alongside Mr Piggot. The Kidszania challenge was engaging and exciting for the students and all the staff involved, with many year 8 students wanting to learn more about businesses and marketing campaigns by the end of the afternoon. I was particularly impressed by the finalists ideas and thought any one of the groups could have won on the day. The overall winning idea on the day was unbelievably creative and I honestly believe it can truly be developed into a realistic, engaging activity which would not only be popular at Kidszania's London branch but one that has the potential to become a fixture globally. On behalf of Fullhurst, I'd like to thank The National Enterprise Challenge team for a fun filled day of learning and an overall outstanding experience!