Powerful poetry by year 10 student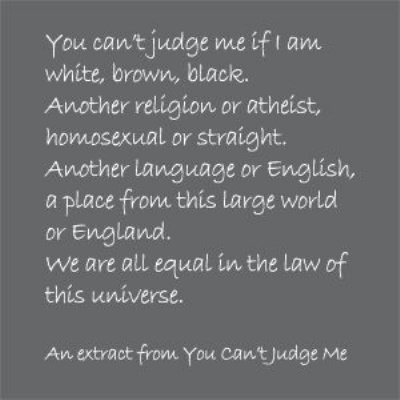 The English faculty were astounded when they read this strong, emotive poem written by year 10 student, Mesk.
It is even more remarkable when you consider that Mesk only arrived at Fullhurst in January 2016 from Syria with no functional English!
We are extremely proud of Mesk and the progress she has made during her two years at the college. Her talents in expressive writing and music are exceptional.
Mesk herself said; "I believe in the power of words. I am just an ordinary person. If I can do this, we all can play a part in changing this world of confusion."
Please read and consider her powerful message .
You Can't Judge Me

You can't judge me; you cannot be racist to me no you can't discriminate me.
We have enough wars running now.
We will not run the American dream again for you.
It is the time to live our dreams now.
No you can't judge me because of my color now.
But now you are judging me because I am a human in need.
And you are not that is why you laugh on me.
I am a valued human being I don't cost a bullet in my head.
Put your gun down if you want to wear your fake mask of humanity.
Stop judging me because I am an immigrant or a refugee.
I was the queen in my rich and spacious land.
I don't want leave to remain, I need leave to remain.
I want to leave where it was a Kill-To-Remain.
You can't judge me if I am white, brown, black.
Another religion or atheist, homosexual or straight.
Another language or English, a place from this large world or England.
We are all equal in the law of this universe.
You can't judge me now because every war is caused by you.
Because of your judgment we are here now.
You can't judge us if we have depression, anxiety, heart attacks, malignant diseases or mental illnesses.
They all caused by you.
Because of your judgment this world have them now.
We all need love, we need mercy, we need equity and equality.
We all must have the right to be valued and save.
We need to have love to be loved.
We need you to change this world with forgiveness.
To pass our hard times we need your assistance.
I am a human in need I am different I am rich or poor.
I am still a human. We all are golds and pure.
Pure diamonds in our hearts that needs to be controlled.
Controlled with love but never with grudge.