Bless you all, what a lovely thing to do, thanks so much!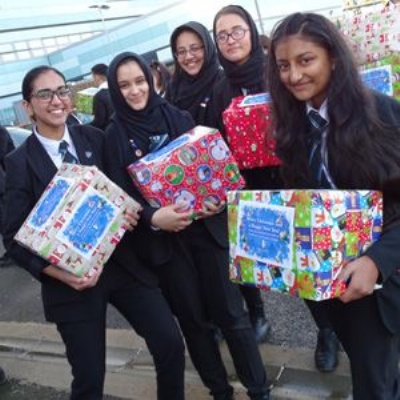 Thank you for supporting the Fullhurst 2017 Christmas hamper appeal. You created over 70 hampers which were distributed locally, transforming Christmas for many vulnerable elderly residents.
Back in December, students continued the long running Fullhurst Christmas tradition of creating food hampers for local residents who may be struggling for a variety of reasons, including vulnerable families and the elderly. Over 70 hampers were made!
Each tutor group worked as a team to collect appropriate items and fill their box, many to the brim. There was then a team effort to wrap the boxes in time for them to be dropped off at the b-inspired office for them to distribute in the days leading up to Christmas. Heartwarming messages of thanks, from recipients of the hampers, were forwarded to us from the b-inspired team including this lovely handwritten card.