"The trip was incredible, especially for a first time skier like me! A great chance to be taught a unique sport!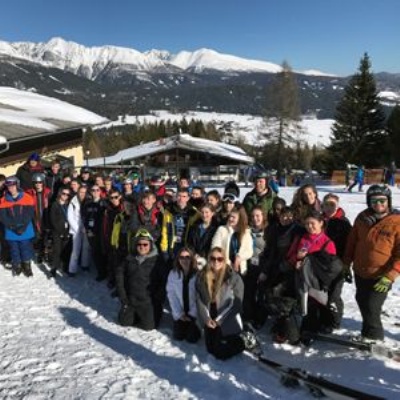 42 excited students had an amazing time on our first ever ski trip to Oberlungau in Austria which took place over the February half term break.
Here a few student comments:
"A great experience and a once in a lifetime opportunity." – Alex (Year 11)
"Skiing was one of the best things I have ever experienced, I have already asked to go next year as the experience on a whole was honestly amazing. The teachers were so good, the hotel was very nice and everything was very well planned out. I 100% want to go next year!" - Kayleigh (Year 10)
"You fall over a lot, but it is great fun!" – Lewis (Year 10)
Alex from year 11 put together a short reflection of his experiences on the trip:
"Even if you have never been skiing before, I suggest you go; even if you're not the type to go fast - you will still love it. The Fullhurst trip is a really good opportunity to go skiing with a lot of your friends, being able to laugh in their faces as they fall and crumple over, seemingly helpless, multiple times on the snowy white ground. I loved challenging my friends to see who could ski better and progress faster. Skiing pushes you to your limits of what you can handle with the immense speeds at which you can traverse the beautiful landscape! It is amazing! Even if you fall over multiple times, it does not matter as every time you fall you improve. . As you get better you will go faster; at first that may seem impossible but eventually it will get easier.

At the beginning of the week, I wondered how I'd ever become as good as the teachers; I was repeatedly falling over and failing, crashing into others and knocking them over. By the end of the week, I was speeding down the mountain with the wind blowing at my clothes, feeling unstoppable. I felt superhuman as I was skiing, the adrenaline rushed through me. It wasn't only the skiing part that was great fun; being able to just look out my window and casually see a mountain just less than a few miles away from me was epic. Also when up the mountains, being able to look down at the towns and other mountains nearby, the views were extraordinary. By the end of the trip I had many tales to tell, my legs were dead and my sleep was interrupted but I'll never forget this epic experience."
Here are a few more quotes from students who took part in the trip. I think it is safe to say that a great time was had by all!
"Going skiing was one of the best experiences I've ever had, I can honestly say it was worth every penny... I can honestly say that every minute I spent there was amazing. I would definitely go again next year" – Oliwia (Year 10)

"Had the best time of my life! Amazing opportunities. I would love to go again." – Libby (Year 9)

"The best holiday I have ever had! Brilliant fun which makes you want to go again." – Nasser (Year 11)

"I had an amazing time with all my friends. 10/10 I would definitely do it again if I had the chance." – Reme (Year 11)

"What a belta! An eye opening experience to so many new opportunities!" – Chloe (Year11)

"A life changing trip that I will remember forever, with amazing people and memories which I will never forget" – Cora (Year 11)

"Absolutely amazing! Loved every single bit of it! Had a lot of laughs and loved seeing everyone fall over!" – Bryony (Year 9)

"You think that you can't do the next step, but you master it and it is amazing! The experience of skiing was brilliant and worth all the falling!" – Maciej (Year 11)