Silver Eco-Schools award for our Fullhurst Eco-Warriors!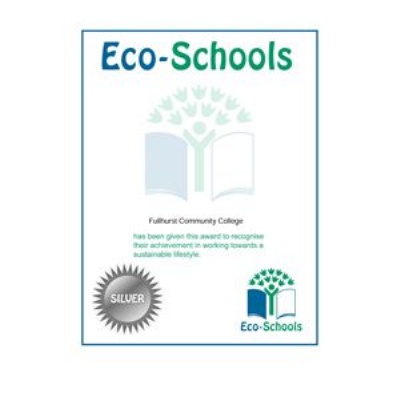 Fullhurst student voice representatives become Eco-Warriors and help to raise awareness of environmental issues.
Back in April, the college was contacted by Lee Jowett, Environmental Education Coordinator, from the environmental team at Leicester City Council. Lee was eager to explain the benefits of the Eco-Schools Awards and to work with us to help the college to become more sustainable in everything that we do.
The Fullhurst Student Voice representatives were approached, who agreed it was a great opportunity to improve the college. The team were all very keen to get going and help to make a difference. They carried out an initial review to gain a realistic picture of our current environmental and sustainability performance inside and outside of the classroom before identifying targets and creating an action plan. With only two terms before the end of the academic year, it was decided to focus on projects relating to energy, litter and waste.
Here we are, three months down the line and we have already improved litter in the school, raised awareness to staff about energy consumption and met with Mr Piggot to discuss an action plan in relation to waste and recycling.
With all that has been achieved so far we are very proud to have been awarded both the bronze and silver Eco-Schools Award which is amazing in this short space of time! Next year we will be looking to achieve green flag status which will involve much more work on varied projects. To look at what we have done so far and to keep up-to-date with news and events, please see our eco-warriors board in the foyer!
I think the eco-warriors are doing a great job! I have certainly noticed the difference around school where litter is concerned. I am on duty over near the sports hall where litter used to be a real problem, but since all of the campaigning and raising awareness the Student Voice representative have done within the year groups, I have noticed a real decrease in litter over where I am. It has made a real improvement! Mr P Barton, SIMS Manager