Open Evening 2018 - Thursday 20 September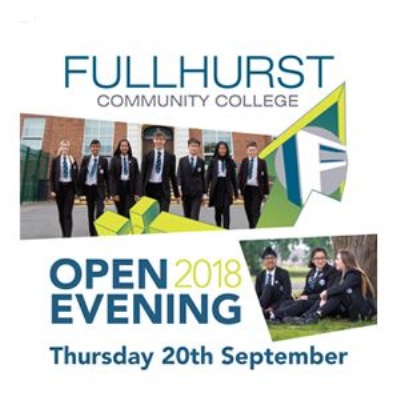 It is with great pleasure that we invite you to our open evening on Thursday 20 September from 5pm-7.30pm, with the Principal's address at 5.30pm and 6.30pm.
Fullhurst Community College's priority is to provide the highest quality education for every student in a supportive and inspiring environment. It is our aim that students leave the college as successful, confident and responsible young people equipped with academic qualifications as well as the personal and social skills to enable them to succeed and make a positive contribution to society.
As a reflection of both the success and popularity of the college, we are currently in the process of expanding from 1155 to 1500 students. To facilitate this, a new £15 million building is being developed in conjunction with Leicester City Council on Ellesmere Road. This site will operate as a Key Stage 3 (year 7 and year 8) hub and we will be utilising these state of the art facilities from August 2019.
Fullhurst students achieve beyond national targets. In 2017, our examination results were recognised as being in the top 3% of all schools nationally. Our 2018 results are equally impressive, something the government will confirm in October when they publish the national performance tables. These achievements and the quality of education we provide have been recognised by Ofsted in our January 2018 inspection, being named the 2017 Leicestershire School of the Year and the college being announced as finalists in the 2018 Pearson Teaching Awards National School of the Year.
At Fullhurst Community College, our students look smart, work hard to achieve success and are praised for their behaviour and attitude by our visitors. We want our students to be excited by their learning both in the classroom and beyond, committed to achieving their very best and confident about their futures. We provide a supportive environment in whichall students are valued and positive relationships with teachers contribute strongly to students' success.
The best judge of all this is you; please come and see for yourself how well we are doing. Find out more about what we have to offer, take a look at our exceptional facilities, meet our outstanding staff and talk to current students as they proudly showcase their work.
We look forward to welcoming you to the college on Thursday 20 September. More information about the event can be found on our open evening page.