"O Romeo, Romeo, wherefore art thou Romeo?"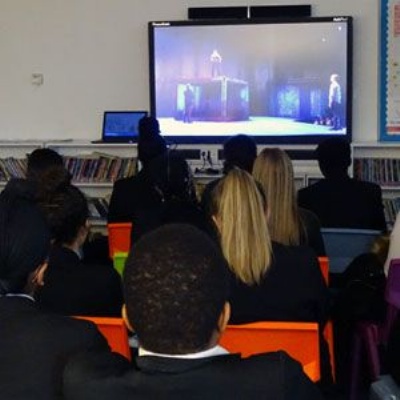 "For never was a story of more woe, Than this of Juliet and her Romeo."
This morning the whole of year 11 watched a performance of 'Romeo and Juliet' streamed live from the Royal Shakespeare Company. Following the performance, they took part in a question and answer sessions with cast members.
The production, with its modern urban setting and diverse cast, helped students to explore and experience Shakespeare's language, themes and ideas in preparation for their GCSE English Literature exam.
The performance was inspiring for students and helped them to see how the play would look onstage and the relationships between the characters. Students especially loved the portrayal of the Nurse and it really helped them to understand just how close she and Juliet are.
Here's what some of the students had to say after watching the performance:

"It was so helpful in bringing the characters to life."
"Watching the play was great and reminded me to see things from the audiences' point of view."
"The character Mercutio was really lively and funny and showed me that s/he is a humorous character, just like Miss told me."
"So much better than just reading it - we lived it!"