Honouring remembrance day in Belgium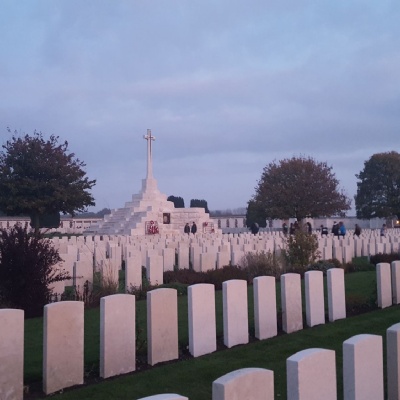 KS4 headed to Belgium to watch the play 'Journey's End' and experience some of the key WWI sites near Ypres.
It was a long and busy day of travelling for our students but behaviour was excellent throughout the trip.
Leaving from Imperial Campus at 3.30am we arrived in Dover by 7.00 and were on the ferry by 9.00am. After landing in Calais, we headed straight for the theatre to watch an incredible performance of 'Journey's End'. Visiting the cemetery that evening at Tyn Cot was especially poignant after the play.
We then travelled to Tyne Cot Cemetery where we paid our respects to the soldiers for whom the cemetery became a final place of rest. Students were a credit to Fullhurst through their exemplary and dignified behaviour and it was clear that they had understood the value of life and the significance of the trip.
We ended the day with some free time in Ypres and by observing the 'Last Post' ceremony at Menin Gate, where we observed a minutes silence with hundreds of other participants, watched wreaths being laid and listened to the buglers playing their instruments. Both staff and students were powerfully moved and we felt incredibly fortunate to witness the procession first hand.