My Story - Chelsea Robertson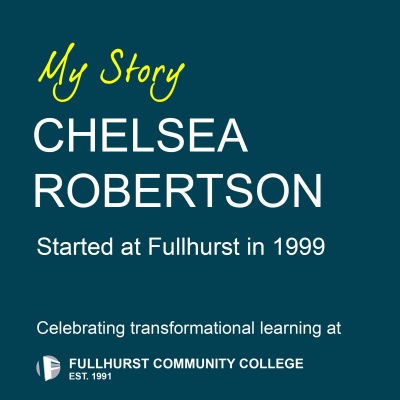 We are catching up with some Fullhurst Alumni as part of our Careers @ Fullhurst Month
We love a good story and it is even better when it has a happy ending. Today, we are catching up with our very own Chelsea, who starts and ends her story at the same place, here at Fullhurst...
Tell us about your memories as a student at Fullhurst? What were your favourite subjects? What did you struggle with?
I really enjoyed my time here at Fullhurst and made so many lifelong friends. My favourite subjects were all art based, the school had (and still has) a great art and design faculty which covers many subjects. I struggled with science mostly, it wasn't a subject I saw as important or interesting back then. (Sorry Mr Rai!)
How did your journey after Fullhurst continue?
After Fullhurst I continued studying and took A-Levels at WQE. I stayed there for two years before moving to De Montfort University (DMU) to complete a year foundation course in Art and Design. After this I moved on to a degree at DMU, however I didn't enjoy my chosen subject and did leave a few months into my degree. I quickly threw myself into the retail world and was given a great opportunity with a company which enabled me to quickly progress to a managerial level. I stayed with this company for a number of years until I was made redundant and then started on a new career path in the admin/office world.
You've come full circle and you are now a valuable member of the team at Fullhurst, tell us about your role?
I saw the vacancy at Fullhurst originally for a receptionist role, however after the interview day I was offered the role of Pastoral Administrator. It wasn't a role I knew much about but I can honestly say I am so happy I took the position. My role here allows me to focus on admin but also have interaction with students which I really like. I am responsible for feeding data back to the Pastoral Teams in regards to behaviour, attendance and even detentions. I am based in Student Reception which is the hub of the school for the students so each day is different with new challenges. I love my job and coming to work here, even though the building has changed over the years, it still feels familiar with some old faces still here.
What would your message be to anyone worried about what the next steps are after leaving Fullhurst?
Please do not worry! The level of support students have is second to none, even after leaving there is so much support (if you feel a little lost). It is SO hard to know what you want to do when leaving school at 16, but always remember there is a chance to change paths if you feel like you have picked the wrong one. What I would say is pick something for you, not something just because your friends are picking the same route.
And finally, tell us who was your favourite teacher and why (we won't tell, promise!)
My favourite teacher has to be Mrs White. She was my Geography teacher and Head Of Year (HOY), and only left Fullhurst this year. She always made me laugh, lessons were always so comical and just generally a nice class to be in. She was so understanding and was a great HOY, being very approachable. It was very surprising to start working here alongside her (even though I still do refer to her as Mrs White).