It's National School Meals Week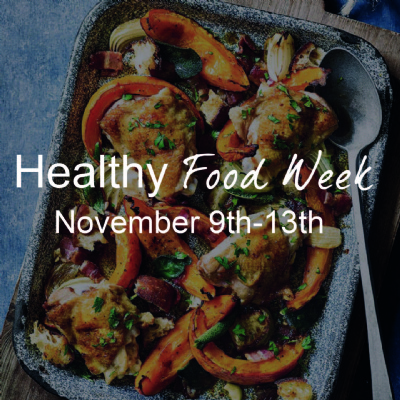 We're putting on a special menu to mark the occasion.
This week is National School Meals Week and at Fullhurst we are putting on a daily healthy special to celebrate. National School Meals Week is designed to raise the awareness of great school food served daily by professional caterers in school across England and Wales.
Check out our choices below and recipes by clicking here.
Monday

Autumn chicken tray bake with green vegetables.
273 calories/16g fat per portion
It's so easy to throw this autumn chicken tray bake together and you can mix and match it with whatever vegetables you have in your fridge. Plus its ready in 30 minutes.
Vegetarian pie.(V0)
327 calories/18g fat per portion
This meat-free veggie pie is the perfect low calorie meal to serve up. Made with ready-made filo pastry, protein rich lentils and plenty of sweet roasted vegetables this is delicious just served up with a simple salad.
Tuesday

Squash Risotto with crispy sage. (V)
408 calories/13g fat per portion
Squash risotto with crispy sage is a real family winner. Ready in just 30 mins, this dish makes a great mid-week option when you fancy something different.
One-pot sausage and squash roast.
314 calories/16g fat per portion
Not only does this one-pot sausage and squash roast cut down on washing up, it also cuts down on the calories too. This mouth-watering meal is easy to make and won't break the bank either.
Wednesday

Homemade beans on toast.
382 calories/ 13g of fat per portion
Pimp baked beans for a quick and easy dinner for the whole family that's ready in just 20 mins! You make these homemade baked beans on toast any night of the week.
One-pot tuna pasta puttanesca.
429 calories/7.5g fat per portion
The whole family are just going to love tucking into this one-pot tuna pasta. Ready in just under 30 mins, this dish is perfect if you've got a lot of hungry mouths to feed and you want dinner on a budget too.
Thursday

Spicy pepper pulled pork.
290 calories/17g fat per portion
The whole family is going to love this tender, spicy pepper pulled pork recipe. Made with a hint of spice, this mouth-watering pork works out at only 290 calories per portion which means you can serve with homemade potato wedges/chips and salad and still be under the 500 mark.
Moroccan root tagine with couscous.
238 calories/2g fat per portion.
Leeks, courgettes and carrots, this tagine takes 3 hearty root veg and gives them a lovely exotic flavour by combining them with warm Moroccan flavours. Couscous is a low-Cal side alternative.