Happy Diwali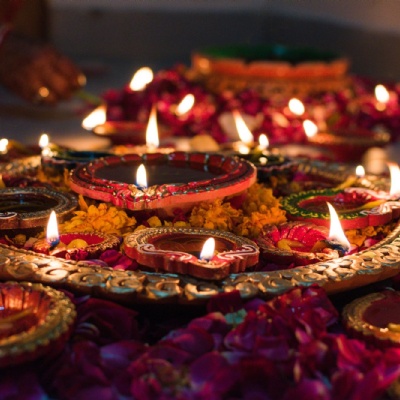 We want to say Happy Diwali to all our friends celebrating the 'Festival of Light'
Diwali, also known as the Festival of Lights, is celebrated on the fifteenth day of the Hindu month of Kartik. Diwali is normally commemorated with dinner parties, gifts, and games with family and friends, but this year it will be different due to COVID-19 restrictions.
What is Diwali all about?
The Diwali festival originated in India and is thought of as a fusion of the harvest festivals in ancient India.
Most of the Indian population —about 80 percent — practise Hinduism, but other Indians practise Islam, Christianity, Sikhism, Buddhism, and Jainism.
Diwali is celebrated by Hindus, Jains, Sikhs, and Newar Buddhists, but it marks different historical events and stories for each.
The five-day celebration is called the Festival of Lights because Hindus, Jains and Sikhs light up their homes, temples and work spaces with diyas, candles and lanterns.
When is Diwali 2020?
The date of Diwali changes every year because the Hindu calendar is based on the lunar and solar cycles.
Diwali is always on the fifteenth day of the Hindu month of Kartik, which is the day of the New Moon.
This year, Lakshmi Pujan (Diwali Day) falls on Saturday, November 14.
This means the first day of Diwali is on Thursday, November 12.
The fifth and final day of Diwali is Monday, November 16.