Onsite Testing and Return to School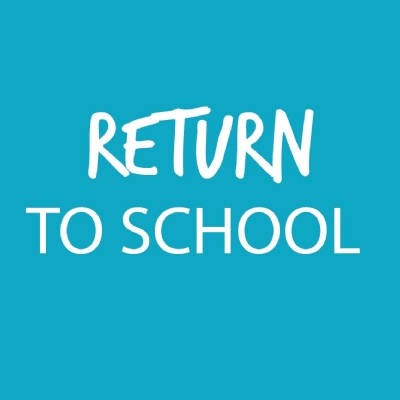 We are very much looking forward to welcoming our students back for the start of the 2021/22 academic year. Below you will find key information on our return to school and onsite testing.
To enable as prompt a return to school as possible we will commence testing prior to the official start of term beginning Monday 23rd August.
Please click here to read the local authorities' return to school letter.
All parents who have consented to have their child tested will have received a personal message via our app with the dates and times of when their child is expected in school.
All testing will take place on our Imperial Campus in the Sports Hall.
Students need to arrive via the entrance on Fullhurst Avenue at their designated appointment time.
Those taking the test will be supervised by our own trained staff who carried out onsite testing in March. The lateral flow tests are quick and easy to undertake using a swab.
Results will be shared directly with the student only if they test positive and parents or legal guardians will be notified.
Students do not need to be in school uniform for testing and must return home once they've had their test.
Once students have had their second test they will be given test kits to take home for home testing.
For students in Years 8-11 the onsite testing will be exactly as it was when we carried it out in March and so students in these year groups will know what to expect from the testing process. For our new Year 7 students we have a video that goes through the whole process of the onsite testing which can be found following this link.
What if my child tests positive?
If a student tests positive on a lateral flow device, they will need to self-isolate immediately and a confirmatory PCR test is taken. The confirmatory PCR test should be taken within two days of the positive LFD test. If the confirmatory PCR is also positive, you will need to follow guidance from NHS Test and Trace and continue to self-isolate.
If the confirmatory PCR is negative the pupil can stop self-isolating and return to school.
Should a confirmatory PCR not be obtained the pupil should self-isolate for 10 days from the result of the positive lateral flow test.
What happens if the test is negative?

Students who test negative will be able to leave school and resume their activities as normal.
What if my child develops symptoms?
This testing programme at school is for people with no symptoms. If your child develops symptoms at any time (including a high temperature; a new, continuous cough; or a loss or change to their sense of smell or taste) they must immediately self-isolate and book a test by calling 119 or visiting https://www.gov.uk/get-coronavirus-test.
The following tables give you the schedule for testing each year group, important information and the date that all students will be expected into school as normal: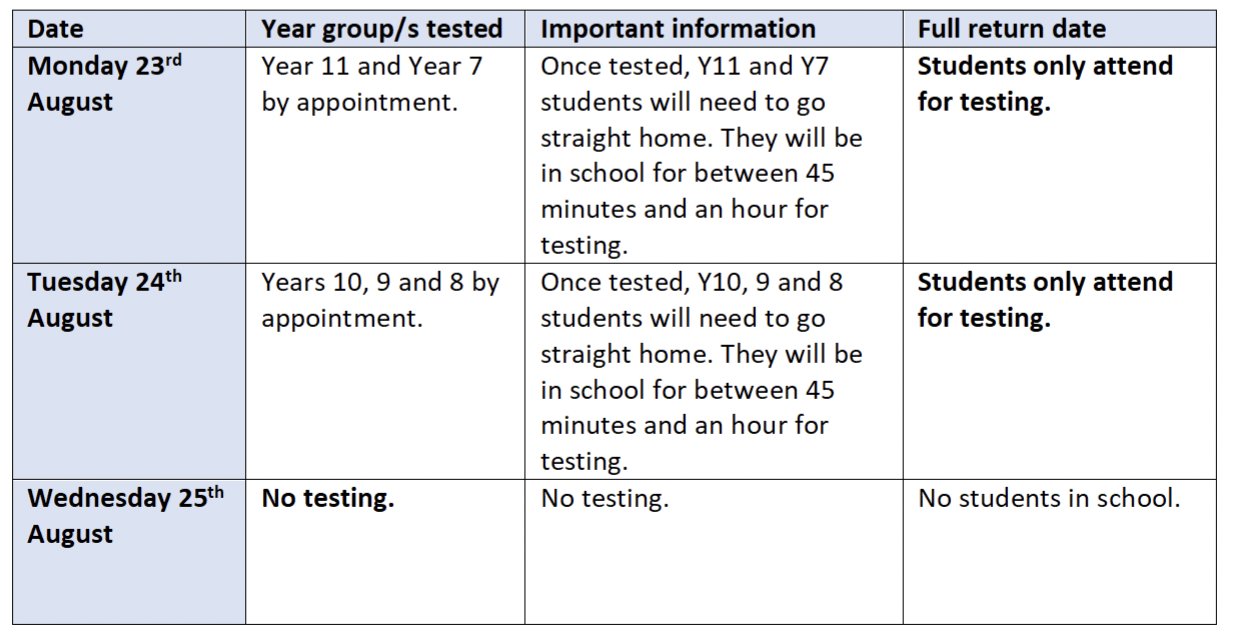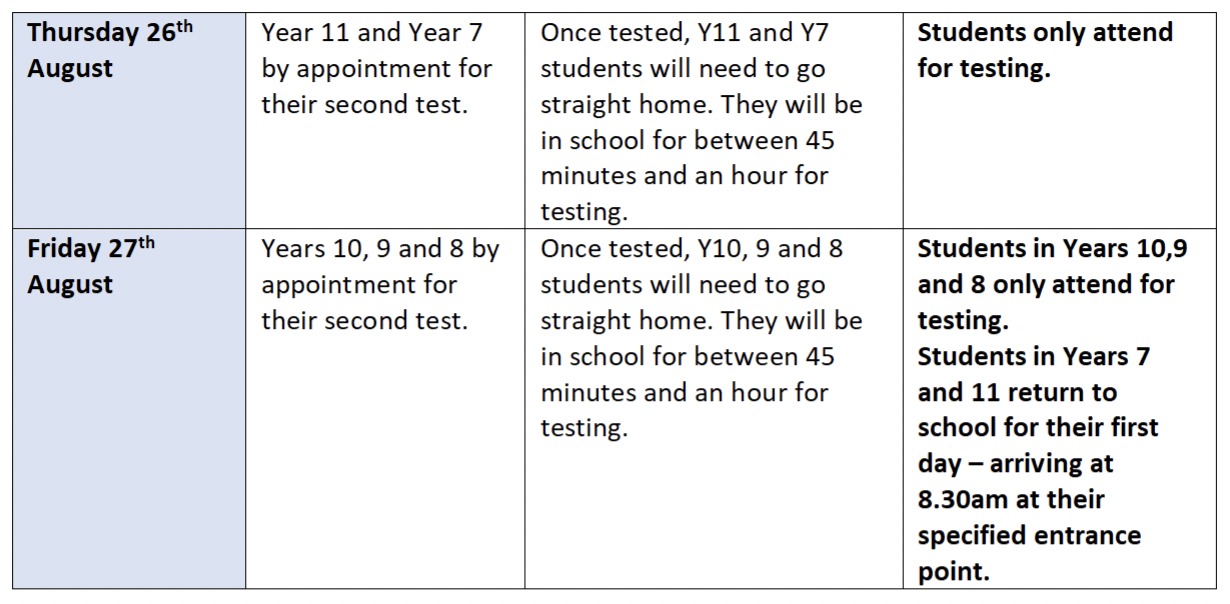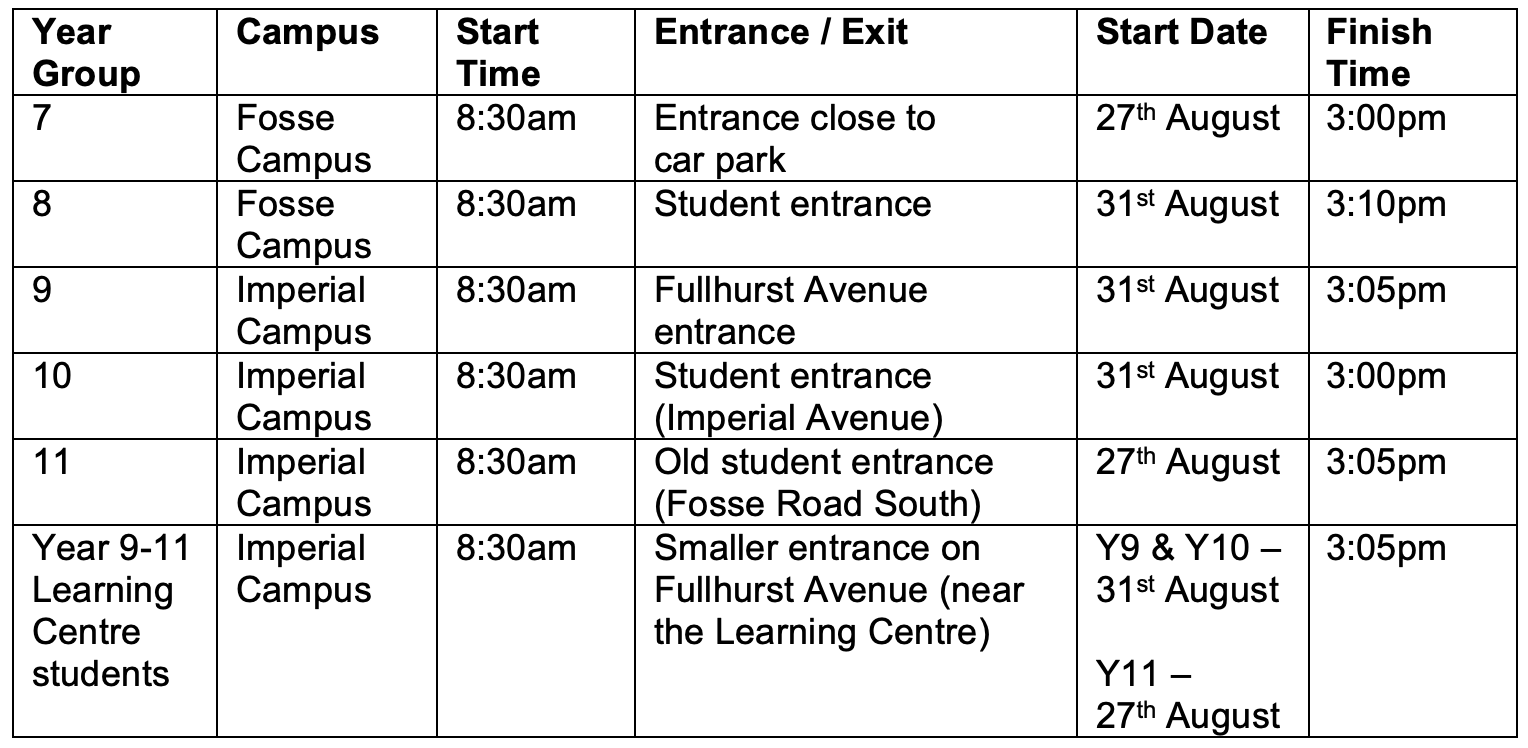 We look forward to seeing our students next week.