Open Evening 2022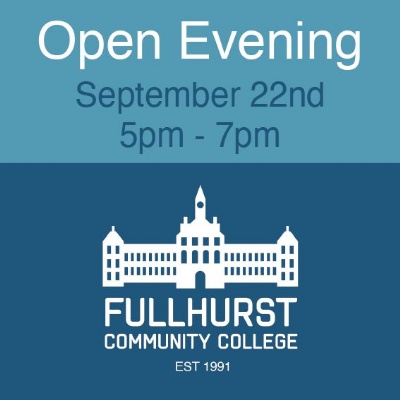 It is with great pleasure that we invite you to our Open Evening on Thursday 22nd September, 5pm-7pm at Fosse Campus. Join us at 5pm or 6pm for a Headteacher's welcome.
At Fullhurst Community College we provide the highest quality education for every student in a supportive and inspiring environment. It is our aim that students leave the college as successful, confident and responsible young people, equipped with academic qualifications as well as the personal and social skills to enable them to succeed and make a positive contribution to society.
Why should you attend our Open Evening?
You will have the opportunity to meet our students, see our school's outstanding facilities across both campuses and immerse yourself within our curriculum.
You will also be able to meet our Leadership Team and Faculty Heads as a way of understanding the school's vision and philosophy as well as our unique approach to the curriculum and teaching.
You will have the opportunity to ask any questions you might have and see why Fullhurst might be the ideal school of choice for your child.