30 Years of Fullhurst - Andrew Harris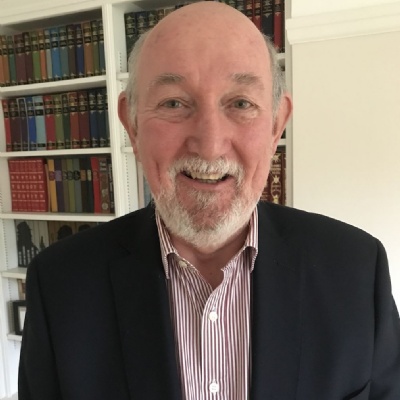 We recently caught up with our Founding Principal: Andrew Harris, on the formation of Fullhurst back in 1990.
Read the full interview below.
How did Fullhurst first start and how was it funded?
Fullhurst first came about following a review of education in west Leicester, King Richard III and Newarke schools were both closing due to a lack of young people in the area. In 1990 I was appointed to plan a new community college and where possible, appoint staff from the closing schools to the new college. This college is, of course, now Fullhurst. Originally the college was to be named Newarke King Richard III Community College but I felt this was too much of a mouthful and after much discussion and many suggestions Fullhurst Community College was agreed because it was the name of the road that ran between the two original schools.
At the beginning it was very much a County Hall funded project because it was before delegated school budgets. The funding was agreed with the council and it was decided that we would occupy the King Richard III site from 1991 until the Newarke site was refurbished over the next two years.
As a community college we had a daytime and evening adult programme and due to lack of space we used the nearby church hall as an overflow for activities.
It really was a huge undertaking, starting a new community college from the ground up, with no established base. The whole team involved with it did an incredible job ensuring it was ready to open in August 1991. Joan Storer was appointed as Registrar during 1990 and she managed the extremely complicated logistics of moving Newarke to King Richard III in the summer of 1990 and then back again to the refurbished Newarke site in 1992. This was a massive undertaking. It should also be remembered the bulk of the staff engaged in curriculum planning for the new college were still fully employed by the closing schools that were in their last year of operation. This put them under a great deal of pressure but they were magnificent.
Was this a big change in the community?
It was a huge change. Parents were concerned about the change in site, the Newarke youngsters having to cross a busy road in the mornings, whether the two sets of students would get on with each other. It was also a change for people in the local area and that was something we very much considered. At the same time, though, significant money was being invested in education and there would be a community element to the provision that would offer local opportunity
How did you get David Bellamy for the opening?
We gave a lot of thought to who should open the college. We wanted someone who was associated with learning and understood its importance but who could connect with the students and be recognized by them. David Bellamy was suggested because he was a well known television personality concerned with the environment. The more we thought about him we were convinced that he would be the right person. The next problem was to actually make contact with him.
I can't remember how we did it but we managed to get the name of his agent and having contacted him he told me the fee. This was far too expensive for us but we chatted about the school and why we had chosen David Bellamy to open it. He replied that he would speak to David and see what he said. A while later we got a call from the agent informing us David Bellamy had done his own research on the school and he'd agreed to come for nothing. The proviso was that we had to pay his first class train fare from London and ensure he was transported to a hotel at the junction of the M40 after the event."
When he came he was incredible, he wasn't interested in showing off for the press or shouting about his own achievements, the whole time he was focused on interacting with the students and getting them interested in the learning behind what he did. He was a really down to earth and driven man and I think it was a great way to open the college. He was still fully engaged with a group of students at 5pm long after most of the guests had left and in order to get him to his hotel I had to drag him away. It was clear when I talked to him in the car after the event how much he had enjoyed himself.
When did you leave Fullhurst?
I left Fullhurst in July 2001 to take up a one year secondment to become the Acting Principal of Beauchamp College with Vice Principal Bill Morris taking my place at Fullhurst. I had planned on returning after this year but John Cleveland College, Hinckley, went into special measures in the Spring of 2002 and I was asked to take over as Principal. Following this Bill Morris became the second Principal of Fullhurst.
What do you think of the direction Fullhurst has gone since you left?
Well as you know, I attended the open evening last week at the Fosse Campus, I think that's excellent. I would've given anything for a facility like that when I was Principal. Having a designated building for years 7 and 8 is incredible. It's a wonderful opportunity to develop their learning skills in a stimulating environment before moving on to the more exam centred years 9, 10 and 11.
The college is obviously very successful and there is a momentum to it which puts it in a very good place. I have visited both campuses and there is a positive feeling where children feel safe, valued and motivated. Fullhurst is clearly going from strength to strength as its numbers grow to 1500 students.
Did you enjoy your time here at Fullhurst?
By and large I did enjoy my time here. From a personal point of view it was a huge challenge to plan and open a new school. I think there was a positive atmosphere, which was shared by staff and students. The staff got on well together and there were numerous social activities which they organised for themselves.
There was an annual cultural visit to Florence which I was fortunate enough to go on. We twinned with a different Italian school each year and our students had a fine time. They were interested in everything and will have developed memories for a lifetime.
Even coming back last week, for the open evening, what really surprised me were the parents that knew me and who were now bringing their own children to look round. It was a lovely surprise to see that they remembered me, and it really did take me back. It just goes to show that Fullhurst is a family school that has been serving this well established area for the last 30 years.
Was Fullhurst a big part of the Local Community?
Yes, we tried to make it a fundamental part of the local community. The community element was an important part of who we were. There was an extensive range of daytime and evening classes and our buildings were hired out for local activities. We had a youth club with a gifted youth worker called Herman Williams. The college always had very good sports teams and cricket became increasingly popular with impromptu matches being played at breaks and lunchtimes. Herman tapped into this and arranged football and cricket summer schools with high quality coaches. Gordon Greenidge, the legendary West Indian batsman, spent a week working with our youngsters and when Gary Lineker was made a Freeman of the City in 1995, on the day of his inauguration, he spent quite a time in our cricket nets having visited the college as part of his tour of the city.