Y10 Ambitions Trip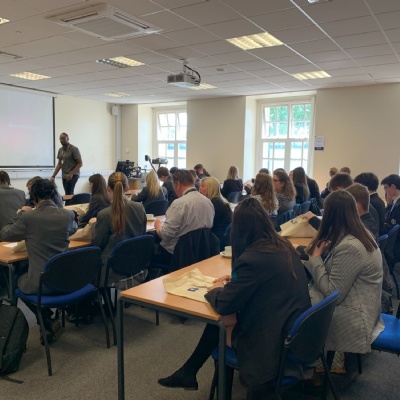 On Tuesday, eight students in year 10 were invited to attend the University of Nottingham (alongside several other schools) for an Ambitions trip. Ambition is a free scheme that offers a range of activities aimed at students to raise aspirations and promote higher education.
The day began with a rock-paper-scissors icebreaker with students from other schools, which was followed by a range of lectures and seminars, including:
Biology with a focus on neurology (Students did an experiment where they had their hand in an ice bucket to test the theory of pain and the placebo effect)
Psychology with a focus on neurology
Sports rehab with a focus on injury and recovery
American and Canadian studies with a focus on Black history and oppression
Civil engineering with a focus on foundational structures and how they could withstand unstable conditions (students had to create buildings out of Lego, which was tested to see what they could withstand)
The day ended with some games and activities that had students considering routes into higher education, different courses, funding and different universities. Finally, they heard from some of the university's student ambassadors who described their average day at university and took any questions regarding life at university.
All of the students said that they'd had a great time and that the trip made them consider whether they'd like to attend university in the future.