Fullhurst Trailblazers Ready to Lead the Way!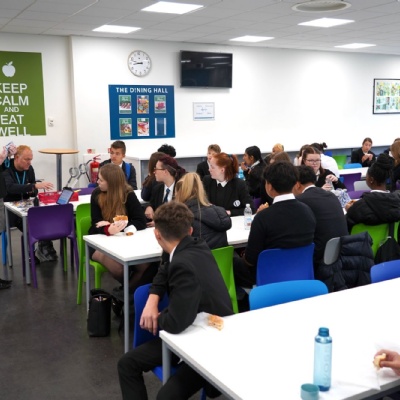 Last week marked a momentous occasion at Fullhurst Community College as we proudly unveiled our "Fullhurst Trailblazers," a group of dedicated students who are poised to make a significant impact on our school community. These young leaders were officially announced and received their distinctive coloured shield pins, symbolising their respective fields of expertise. The Trailblazers are all set to ignite a wave of participation, awareness, and engagement across our school.
Meet the Trailblazers:
Volunteering & Promotion (Red): This group will be the driving force behind school events, using their skills in photography, marketing, and social media to showcase the vibrant life at Fullhurst.

Activity (Orange): The Activity Trailblazers are all about sports, events, involvement, participation, and engagement. They will create opportunities for students to get active and engaged in various exciting activities.

Charity (Yellow): With a heart for the community, the Charity Trailblazers will focus on community outreach, fundraising, and raising awareness about critical issues affecting society.

Environment (Green): Committed to addressing the Climate Crisis, this group will delve into wildlife, nature, and ecology education, encouraging sustainable practices throughout the school.

Wellbeing (Blue): Mental health, physical fitness, and self-care are at the forefront of the Wellbeing Trailblazers' agenda, ensuring that every student feels their best.

Equality (Purple): This group will promote equity, British Values, and address issues related to racial, religious identity, and LGBTQIA+ topics, fostering an inclusive and accepting school environment.
These Trailblazers will be a prominent presence across both Fullhurst school sites, actively encouraging students to participate in their various initiatives. Their primary goal is to inspire interaction and nurture community ideas among our diverse student body.
The Trailblazers invite everyone in our school community to support and participate in their upcoming activities. Whether you're passionate about sports, environmental conservation, charity work, mental health advocacy, or promoting equality and diversity, there's a Trailblazer group that aligns with your interests.
Stay tuned for announcements about their upcoming events and initiatives. Together, we can make Fullhurst Community College an even more vibrant and inclusive place for all!