About the college
To be part of Fullhurst Community College is to transform lives. We are proud to serve a diverse community of over 1000 students, aged 11-16 years, on our large site in south west Leicester and are oversubscribed each year. As the first school in Leicester to be rebuilt under the 'Building Schools for the Future' programme, Fullhurst provides an exceptional environment in which to learn and work. Over the next four years we will continue to expand from 1035 students to 1500 students. To facilitate
this, a new £15 million build is being developed in conjunction with Leicester City Council on Ellesmere Road. As a college, we will be utilising these state of the art facilities from August 2019.
Students follow personalised pathways for learning which meet their individual needs. Our curriculum is broad and varied enabling each student to thrive. We also offer an extensive range of extra-curricular activities including sport, music, art and languages. We want our students to be excited by their learning in the classroom and beyond, committed to achieving their very best and confident about their futures. In 2016, our Progress 8 measure was +0.48, the highest in Leicester and in 2017 it was +0.64, placing Fullhurst in the top 200 schools in England. This score is exceptional; demonstrating the strength of our curriculum and that all groups of Fullhurst students achieve beyond national targets. We believe that resilience is key to our young people exceeding their potential and passionately instil a positive 'I can do' outlook.
Fullhurst Community College was inspected by Ofsted in January 2018. We are very proud to announce that Fullhurst Community College continues to be good. The report states; "Staff work hard to maintain the schools many strengths and improve the school further. There is a clear-sighted focus on improving GCSE outcomes, combined with a deep-seated moral commitment to serving the needs of the young people in the area, especially the most vulnerable." Challenge Partner reviews, most recently in 2017, suggest the school has many outstanding features. In June 2017, Fullhurst was recognised by the Department for Education as Secondary Regional Champion at the Pupil Premium Awards and in December 2017, we were extremely proud to be announced as the Leicester Mercury School of the Year 2017. We have recently received the wonderful news that we are a Pearson Teaching Awards School of the Year Silver Award Winner 2018 and are looking forward to attending the glittering award ceremony in October where we will find out if the college has won one of just 12 Gold Plato Awards!
At Fullhurst Community College, we work in close partnership with local schools, sports and community organisations to ensure we provide the best learning opportunities for our students. The community is at the heart of what we do with our school allotment supporting the 200 local families accessing the food bank. The students also run a community radio station which broadcasts 24/7, called Fullpower.fm.
We have assembled an outstanding team of leaders, teachers and support staff at Fullhurst through partnerships such as Teach First and Future Leaders. This has enabled our students to access the highest quality teaching and as a member of two local teaching school alliances we continue to attract the best candidates for all positions.
The priority of the college is to provide the highest quality education for every student in a supportive and inspiring environment. It is our aim that students leave Fullhurst Community College as successful, confident and responsible young people equipped with academic qualifications as well as the personal and social skills to enable them make a positive contribution to society.
I hope that you will find our website a useful introduction to our diverse and vibrant college, however the best way to find out more is to visit us and see us in action. Should you require any further information or wish to visit, please do not hesitate to contact us.
Steve Piggot
Principal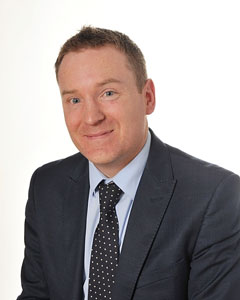 Steve Piggot has been Principal of Fullhurst Community College since February 2017. He joined Fullhurst as Deputy Principal in 2013, with responsibility for Curriculum, Quality Assurance and School Improvement. He sits on the Headteacher advisory group of the Careers and Enterprise Company, the Headteachers Midlands steering group for TeachFirst and represents secondary education at the Leicester and Leicestershire Enterprise Partnership. He also supports the work of the Ashfield Teaching School Alliance, is a Pupil Premium reviewer and serves as a primary school governor. Mr Piggot also teaches Geography to students in year 11.