Art & Design
Curriculum Intent: Art and Design enables students to experience new and build upon existing artistic skills and develop their use of different materials and processes through a variety of mediums. The department aims to nurture all students to gain an understanding of the key concepts within Art and Design, to be exposed to different styles through contemporary and traditional artists' work, to gain confidence in thinking creatively and to develop confidence in their own artistic abilities. We want students to enjoy their Art lessons and develop an appreciation for different Art styles.
Year 7 curriculum:
Students begin their Art and Design journey at Fullhurst by exploring a range of techniques in recording observational drawings through mixed media. This includes painting, drawing and shading, technical drawing and handling materials. Students in year 7 will focus on a project theme 'Around the World' in which they will study 4 artists from various countries and periods in history in order to gain inspiration and knowledge to create their own personalised art piece. Artists include Vincent Van Gogh, Stephen Wiltshire and Andy Warhol. Students will delve into architecture and the works of Antonia Gaudi to examine how nature influences his work to form links between the natural form and building design. Students will learn about the 6 formal elements: colour, shape, texture, tone, pattern and line and learn how to experiment with colour. They produce a final piece related to the project theme to showcase the skills they have learnt.
Year 8 curriculum:
In year 8 students build upon skills taught in year 7 and are introduced to our 'Day of the Dead' themed project. Students investigate the project title via primary research, secondary research, developmental ideas and ultimately create a final piece. Students discover the art of print making and complete a series of prints using lino, mono printing and poly printing. These processes allow students to learn printing methods in more depth and explore negative and positive shapes, repeat patterns, intricate designs and printing onto layered backgrounds. Students grow in confidence and develop how to handle new materials to improve technical skills when using both coloured and Indian ink. Focusing on studies by Carissa Rose to create research pages, recalling artist information and transcriptions of her work and style. Students create a clay tile using polymer clay and practice handling 3D materials and manipulating clay using tools such as smoothing tools and cutting tools. A strong emphasis is placed on the students' final piece, which is inspired by Carissa Rose's work and help guide students towards a medium they are confident with using.
Year 9 curriculum:
In year 9, students will complete a project based on the theme of 'Me, Myself and I', a broad topic that allows for personalisation and teaches through a range of artistic media and processes. Students study a range of both traditional and contemporary artists, such as Deb Weirs, Teesha Moore and Danny Gregory, as well as the artist Modigliani. Having studied the artwork of these artists, students will explore drawing, mixed media collage and clay processes, producing their own personal outcomes based on the artists' work and their own interests. Teaching and learning is planned to build on processes learnt during years 7 and 8 and will develop students' independence as artists, in preparation for further study.
GCSE Art and Design – Years 10 and 11
GCSE Art and Design at Fullhurst is a busy and vibrant course in which students get the opportunity to explore the use of a wide variety of materials, techniques and styles of drawing painting and using mixed media before finding their own specialist area. Students develop their Art ability by building on the core skills they have developed in Year 7, 8, and 9. The projects, based on themes, explore materials and techniques in greater depth constantly encouraging students to work outside their comfort zone in the creation process. Art students are encouraged to develop their skills in a wide range of materials, techniques and processes. Lessons are designed to stimulate and encourage imaginative and sensitive responses and balance practical sessions with a focus on historical and contemporary artist research and critical appreciation skills.
The Portfolio (60% of grade) is based on learning a range of skills, which will allow students to develop as artists, while focusing on the development and refinement of ideas in response to given project themes. Students will have the opportunity to develop personal ideas, using primary source imagery they have gathered. From this detailed observational studies will be made using a variety of materials and techniques. Critical appreciation of the relevant work of other artists (both in written and visual form) is an important part of the course in that it helps to inform students' practical responses. Students receive individual tutorials and written feedback on a regular basis to encourage and inspire progress and attainment, leading to the completion of the GCSE portfolio. Students will collate a portfolio of work based on the themes 'Natural Forms' and/or 'Collections'. These projects will be conducted throughout the year, and assist in developing skills using a range of 2d and 3d media and processes. Students will be given opportunities to explore painting techniques, the use of mixed media, printmaking, oil and chalk pastel, ceramics and the use of ICT/Photography. Students will undertake a range of project tasks that are set to develop their confidence, skills and abilities in Art and Design.
Externally assessed task:
Externally Set Task (Examination project 40% of grade). This project involves students developing a personal response based on their interpretation of one theme selected from several as provided by the AQA examination board in January of Year 11. Students will have at least 2 months to prepare a range of studies from which a final piece of artwork is produced within a 10 hour controlled session over a two-day period. This will support the grade already moderated and achieved by students from the portfolio.
Extra-curricular Opportunities
On Fosse campus Miss Simpkin runs a weekly art club for year 7 and 8 students.
For years 9, 10 and 11 twilight (afterschool) and lunchtime (Art Club) sessions are offered on a weekly basis throughout the year to allow students to work on their coursework, any personal projects and to gain additional teacher support and guidance. Where required half term workshops have also been available.
Examples of Student Work
Year 10
Students in GCSE Art and Design have been studying artists and making observational drawings based on the theme of 'Discarded'.
They have made pencil, biro and chalk/charcoal drawings from direct observation of still life objects. They have studied the artist Jo Bradney who draws the remnants of her day – left-over food, crumpled food packaging and have also looked at the artist Ruby Silvious who paints on to used teabags. Some students have looked at the artist Wenyi who draws on to discarded packaging.
Here, they have created exciting artist research pages, demonstrating their understanding of the artist as well as trying the different methods of working.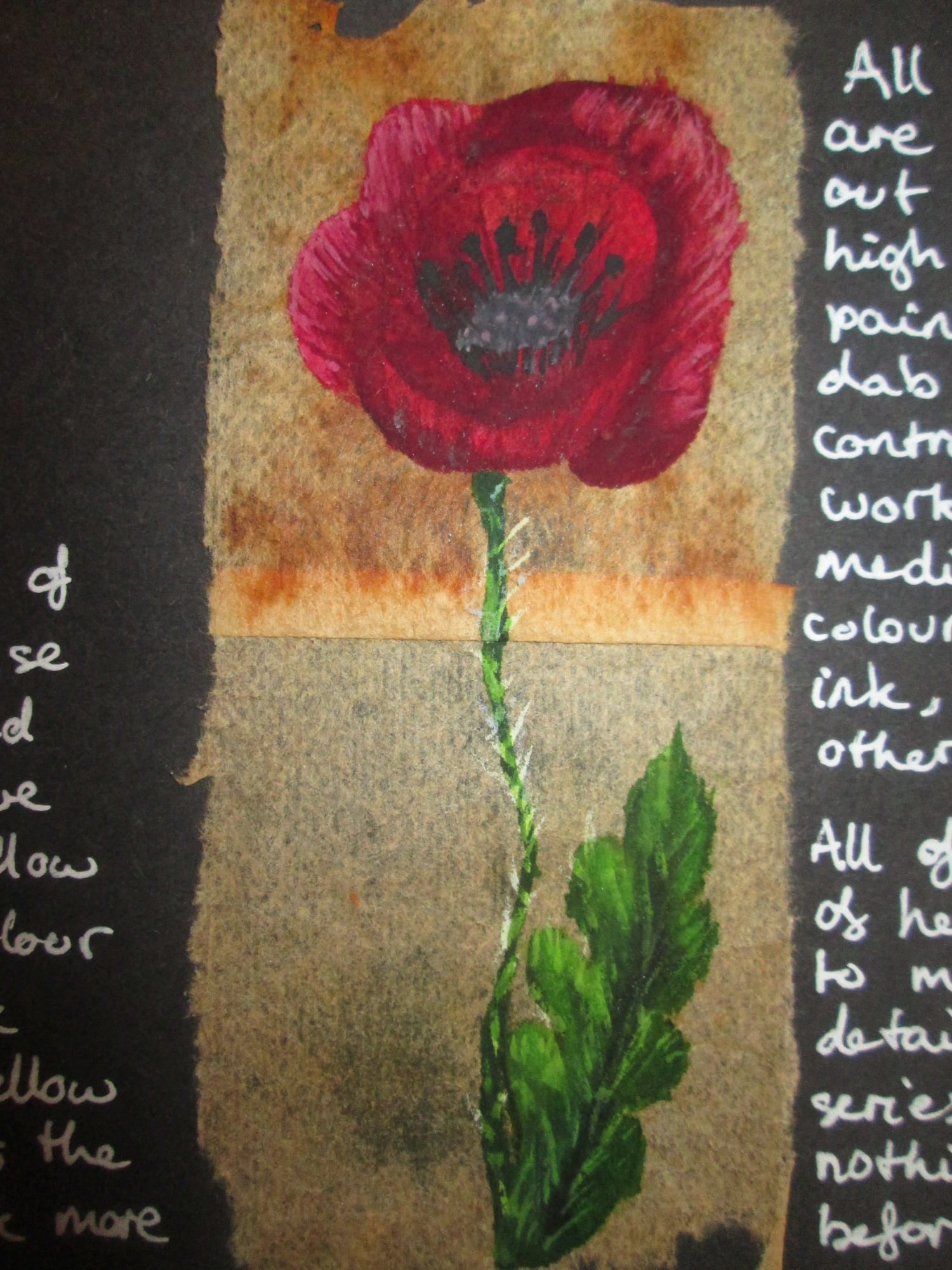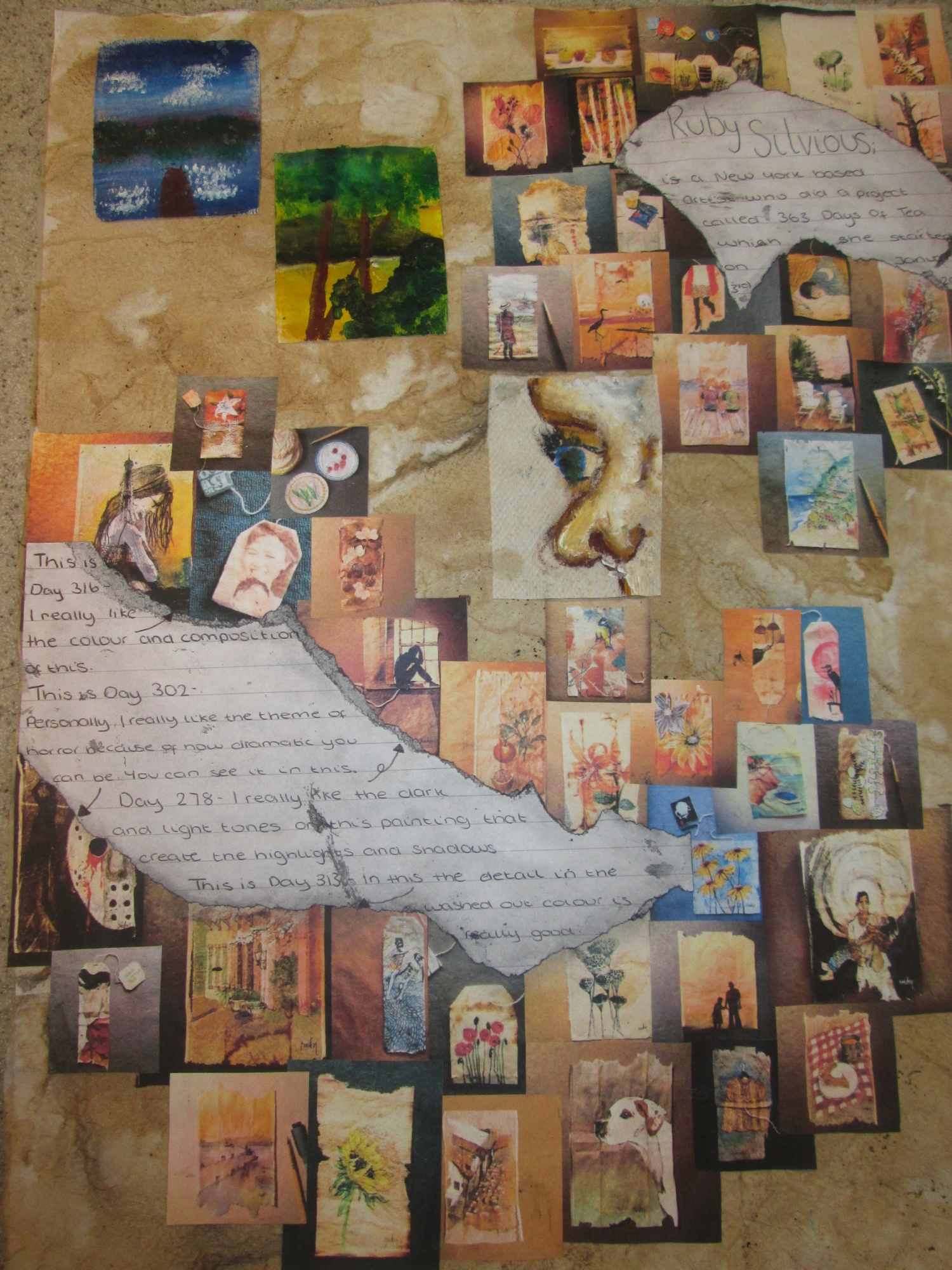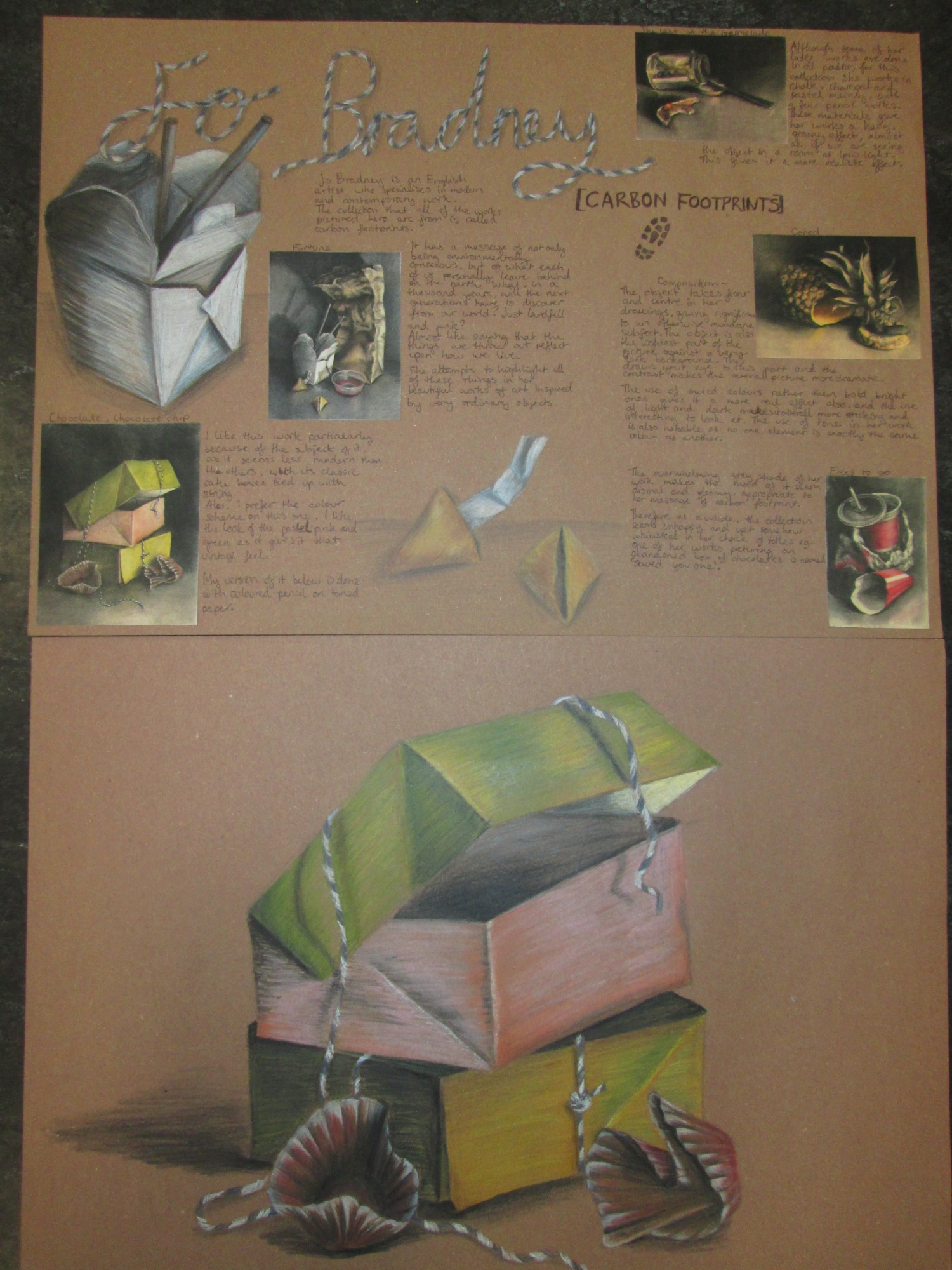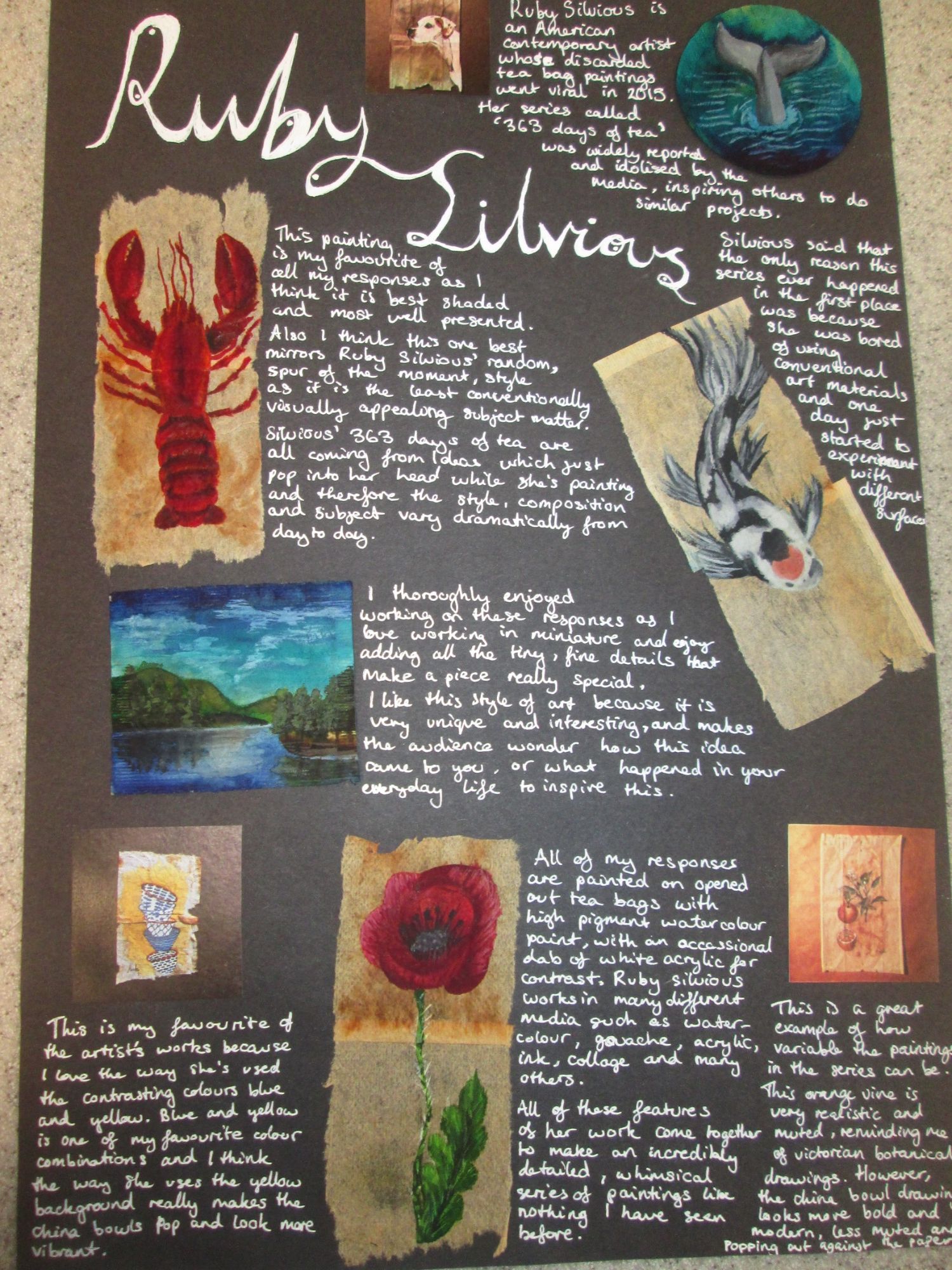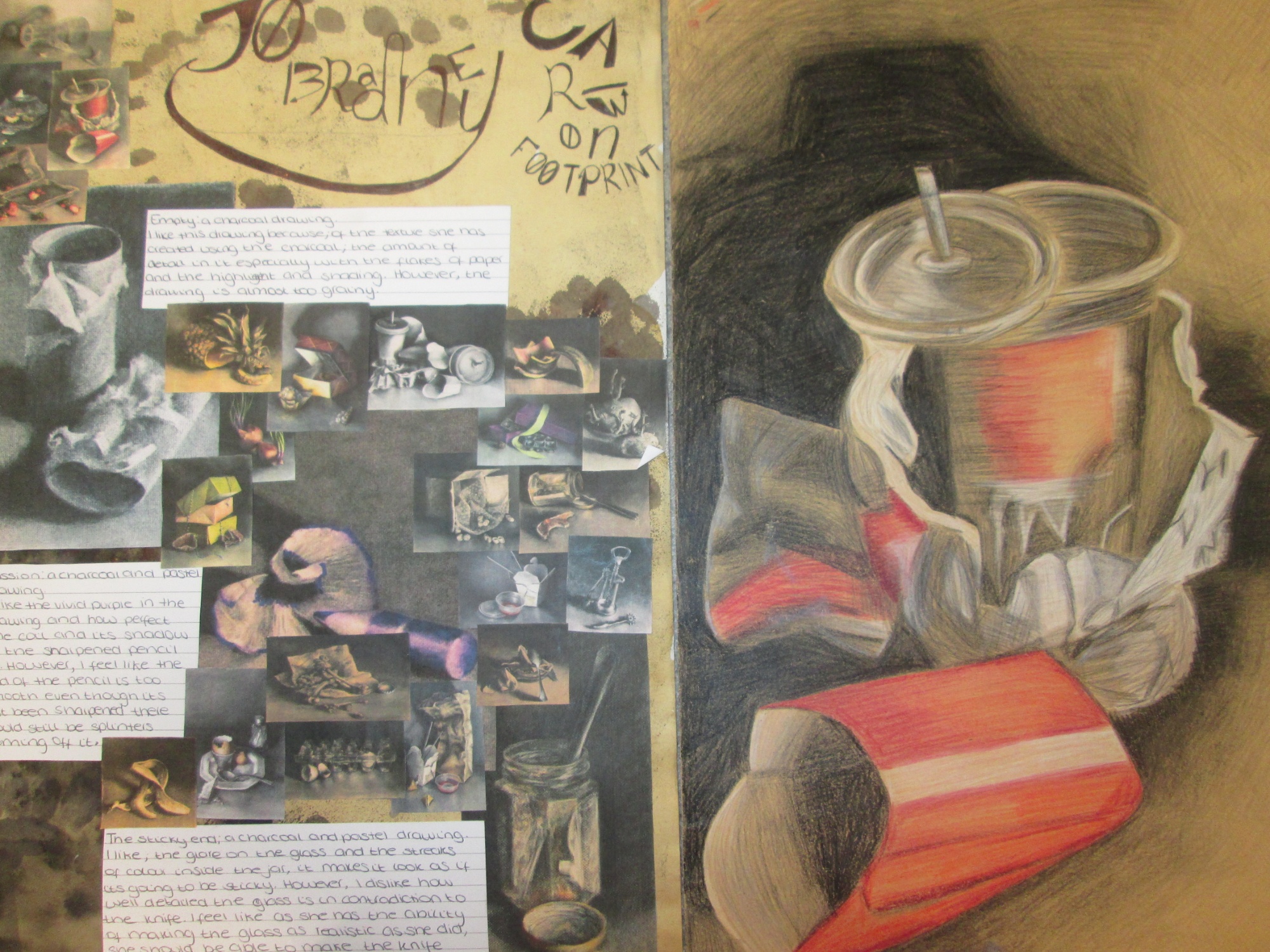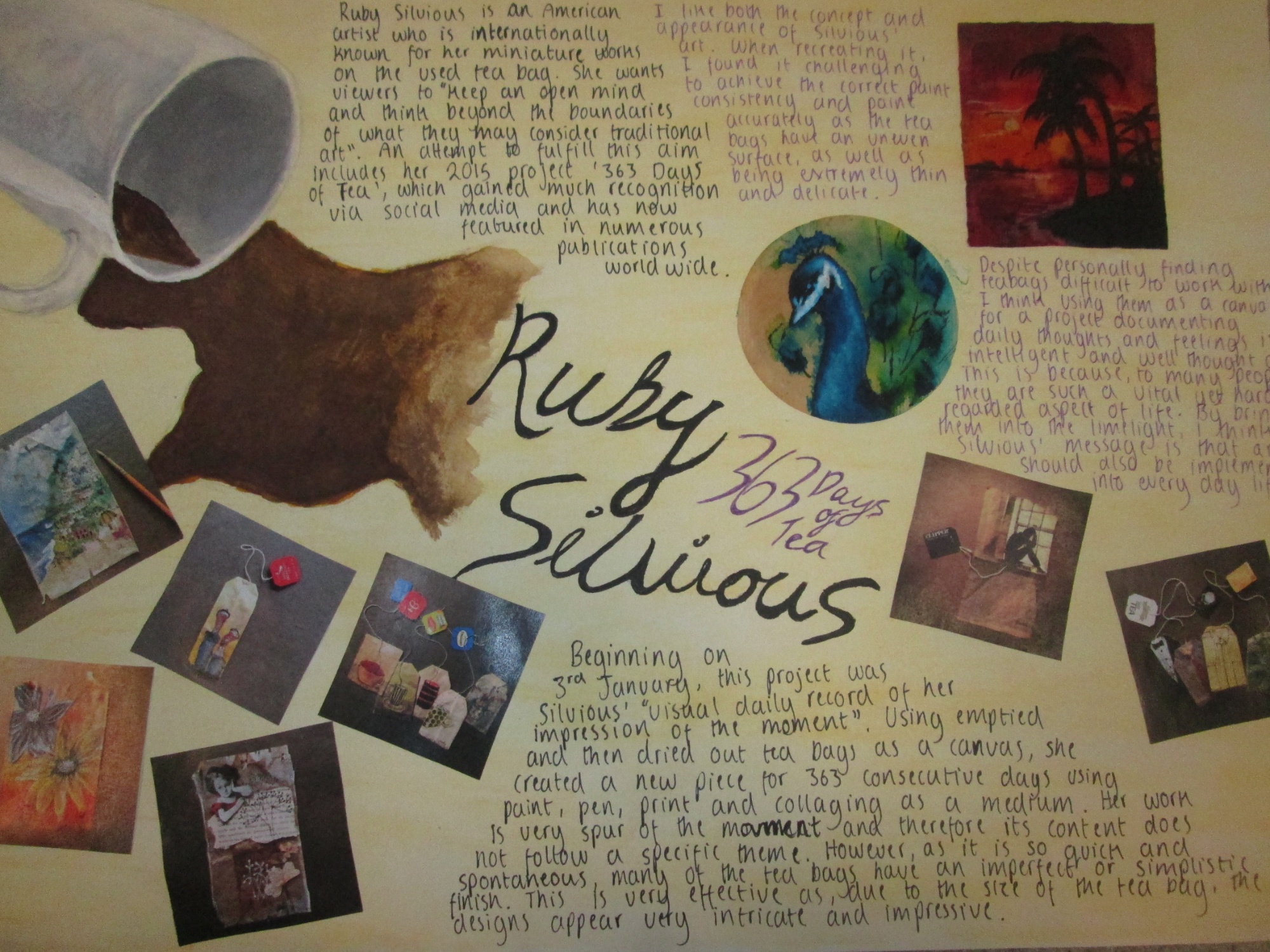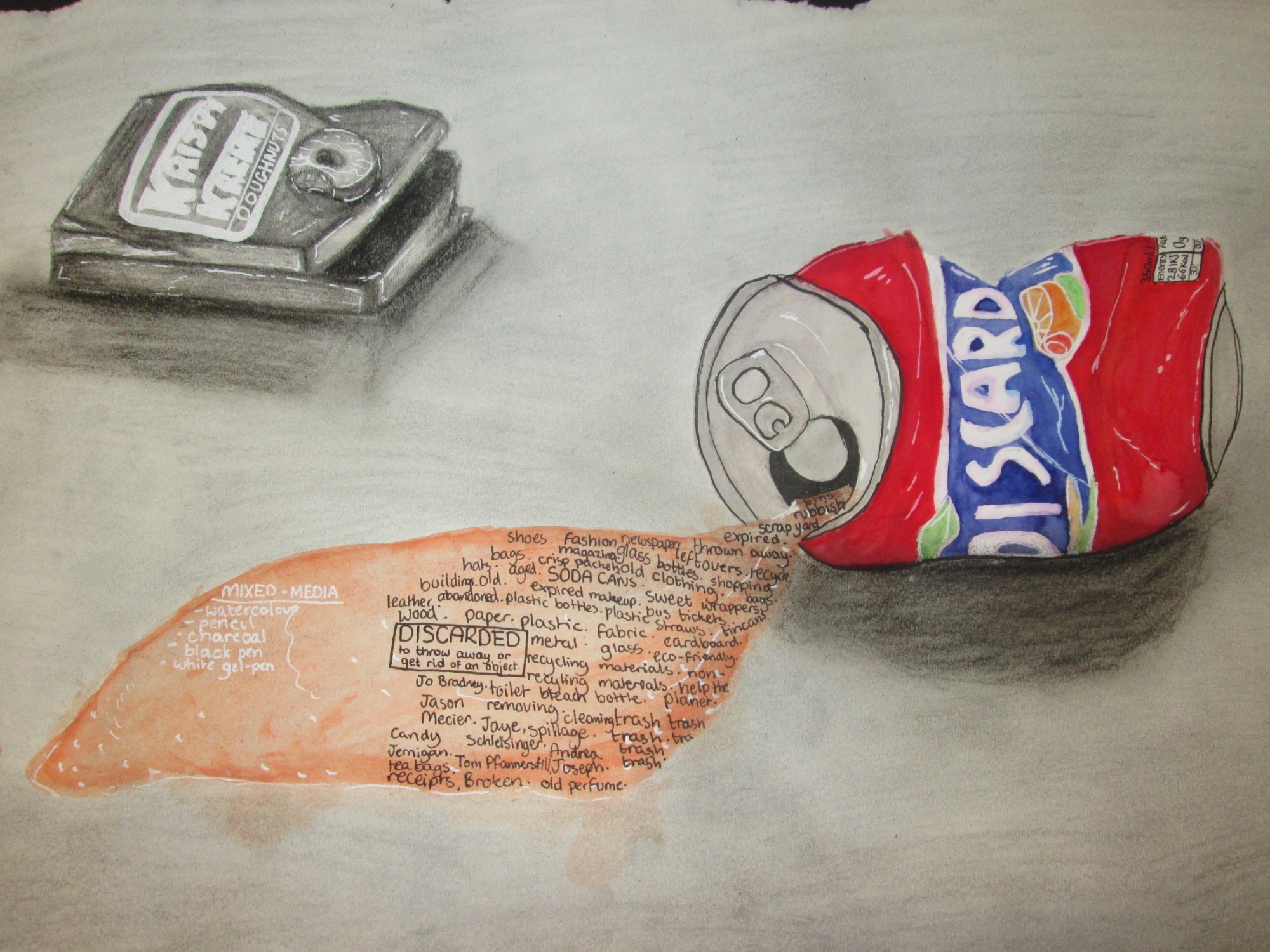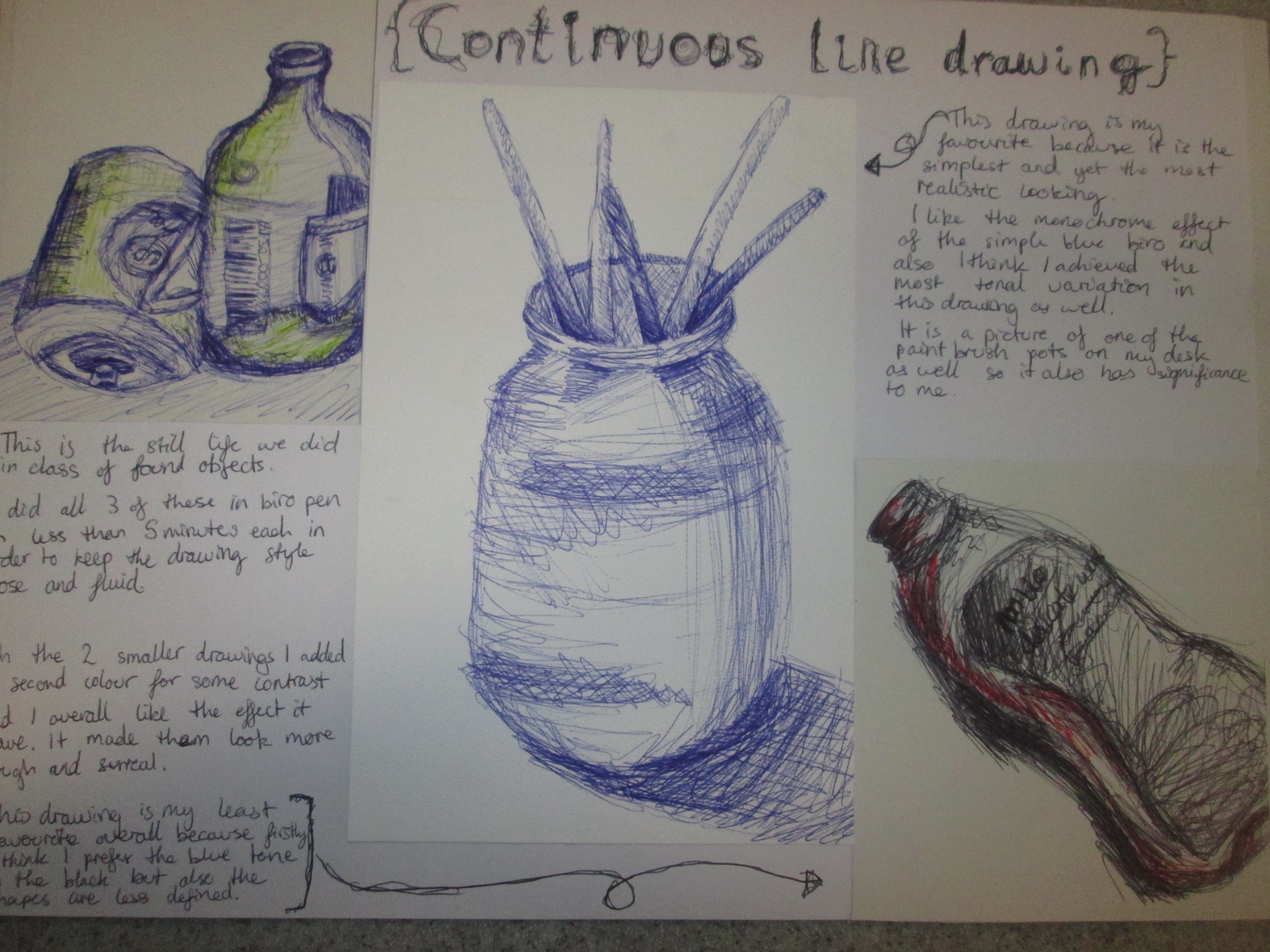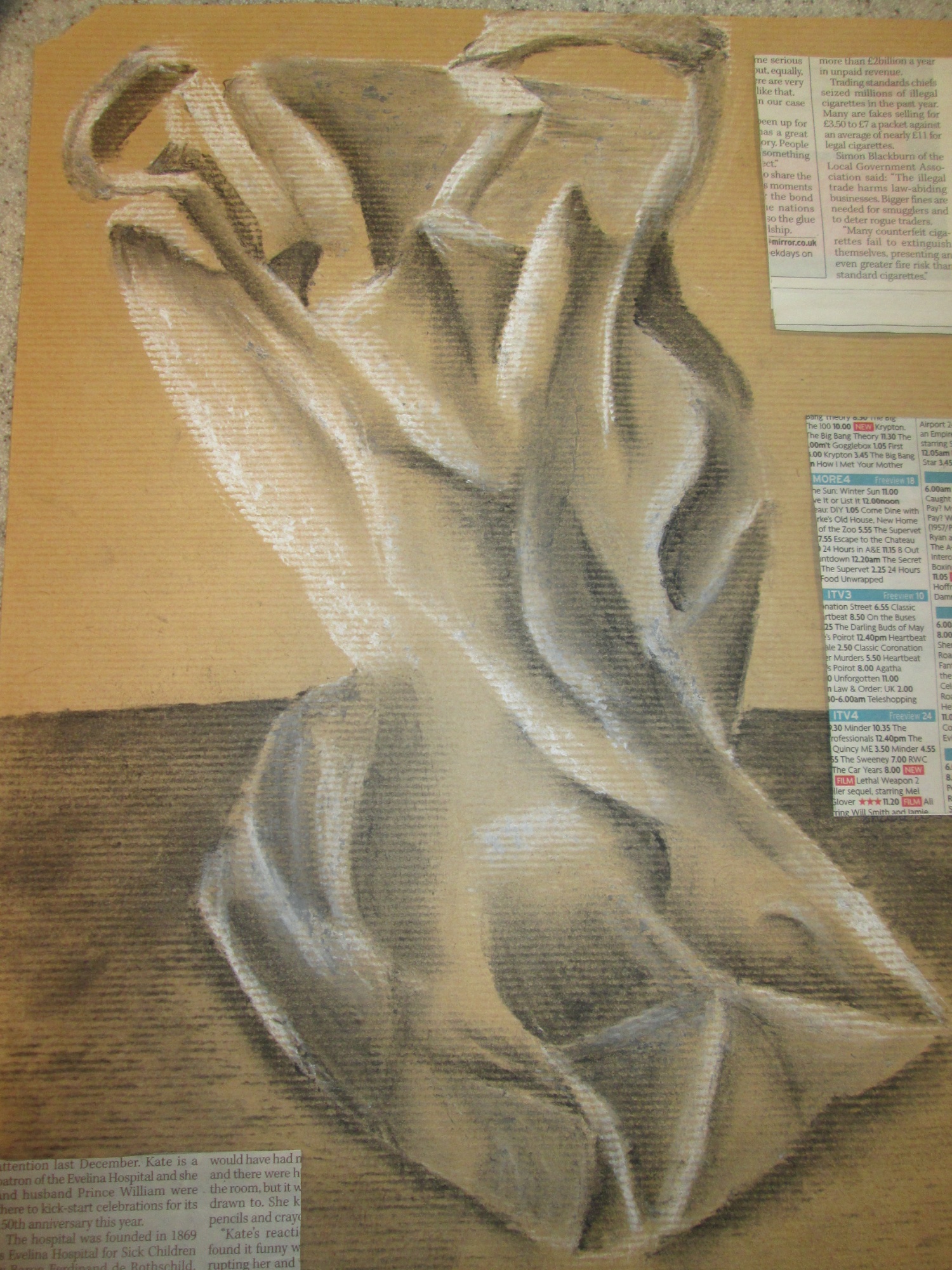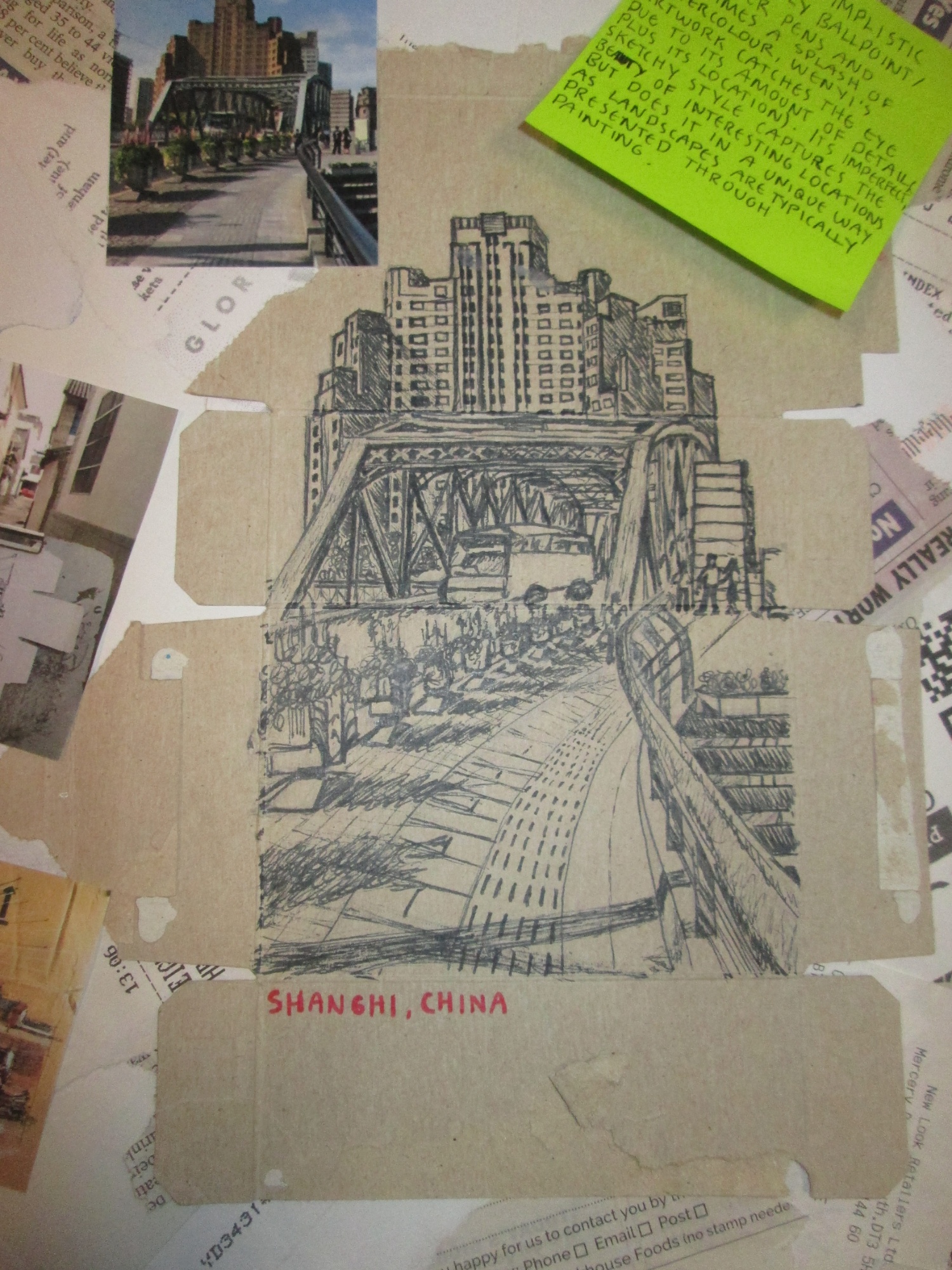 Dry point prints
Going further, students have developed their original drawings into dry point prints with some fantastic results! It's a method that involves scratching an image into a plate with a pointed tool. These lines create a burr that holds ink, meaning that the print reveals the drawing.