Art
Welcome to the department of Art and Design. We are a thriving, well-resourced and successful department with experienced staff and art practitioners who strive to ensure that pupils are encouraged to explore and experience a broad variety of techniques, genres and approaches. These include drawing and painting, printmaking and ceramics, textiles, photography and digital art.
We aim to nurture all pupils to gain an understanding of Art and Design, to be exposed to different styles through contemporary and traditional artists work, to gain confidence in thinking creatively, to problem solve independently and within a group and to develop confidence in their own artistic abilities. Above all we want pupils to enjoy their art lessons.
Key Stage 3
The aim of KS3 Art is for students to learn the basic skills required to be able to fully engage and enjoy Art. By the end of the year 8 rotation, students are able to appreciate and value images and artefacts across different times and cultures and to understand the contexts in which artwork is made. Students learn to think and act as artists, craftspeople and designers, working creatively and intelligently. Over years 7 and 8, students work with paint, drawing media, digital media, clay and sculpture materials and print processes. They are encouraged to develop independent learning skills.
Year 7
In year 7 pupils experience a core skills project where they learn a range of drawing techniques, shading and pencil tone, study the colour wheel and complete portraiture work. Students then move on to a materials and process's project, in which they learn about composition and artist's such as Henri Matisse and Vincent Van Gogh.
Year 8
In year 8 pupils develop their understanding of materials and processes, building on the skills previously learnt in year 7. By the end of the year 8 rotation pupils are able to work with a range of materials and processes, specifically learning drawing and printmaking processes. Pupils will learn about contemporary artists and consider how art printmaking and illustration are used in industry. Pupils will develop an understanding of other cultures through their studies of folk art and day of the dead. During this project, pupils will learn different drawing techniques, focusing on tone and scale when making observational drawings of skulls. They will also explore pattern and work with a range of different materials.

Key Stage 4
In KS4 students build on the core skills they have developed during Key Stage 3. The projects, based on themes, explore materials and techniques in greater depth constantly encouraging students to work outside their comfort zone in the creation process.
GCSE Art encourages students to be resourceful and independent by examining and investigating art works in the media and at galleries and helps in producing their own unique style.
Programme of Study
GCSE Art is structured into two parts: Portfolio and External Task
Portfolio, worth 60%, is comprised of coursework and is made up of two projects, allowing students to explore materials and chosen theme in depth.
Students develop ideas in response to a set theme and are encouraged to work independently to produce an exciting piece of work.
External Task, worth 40%, is a themed project set by the exam board. Students have a given length of time to research, develop ideas and experiment with materials to produce a personal piece of work from one of the given starting points.
Year 9
As an introduction to KS4 Art and Design, and as a way of preparing for GCSE, pupils in year 9 will learn how to work with a range of new materials and processes, creating a range of samples, whilst demonstrate their ability to work across the different art disciplines, including drawing, printmaking, textiles and sculpture.
Pupils will each produce a sketchbook of work, practicing their presentation skills whilst also being introduced to the work of both traditional and contemporary artists. As work is developed, pupils are encouraged to nurture their own personal style, preparing them for a more independent way of working in year 10.
This year pupils will be the theme of 'Me, myself and I', a broad topic, which allows for all interests and areas of study.
Over the spring term, pupils will work from a design brief, producing a mini GCSE project, which meets the four assessment objectives. They will all take part in a mock exam in the summer.
Year 10
· Portfolio Project 1 – Complete by May
· Portfolio Project 2 Sustained Project – Start May
Year 11
· Portfolio Project 2 Sustained Project- Complete by end of Autumn Term. Mock exam piece of work
· External Task Project 3 Externally set project completed by April
Useful resources
Top tips
At GCSE, students start exploring their own ideas and expressing themselves visually. Students therefore benefit from being exposed to a wide variety of creative Arts. Museums, Art Galleries and Street Art are all part of this creative and expressive world and it is be good to encourage your daughter to see a wide range.
A love of the creative and an inquiring mind will benefit any student at GCSE. In the classroom, students develop these skills and encouraging your child to draw, paint, collage, photograph, build and create at home would only impact positively with this.
Year 10
Students in GCSE Art and Design have been studying artists and making observational drawings based on the theme of 'Discarded'.
They have made pencil, biro and chalk/charcoal drawings from direct observation of still life objects. They have studied the artist Jo Bradney who draws the remnants of her day – left-over food, crumpled food packaging and have also looked at the artist Ruby Silvious who paints on to used teabags. Some students have looked at the artist Wenyi who draws on to discarded packaging.
Here, they have created exciting artist research pages, demonstrating their understanding of the artist as well as trying the different methods of working.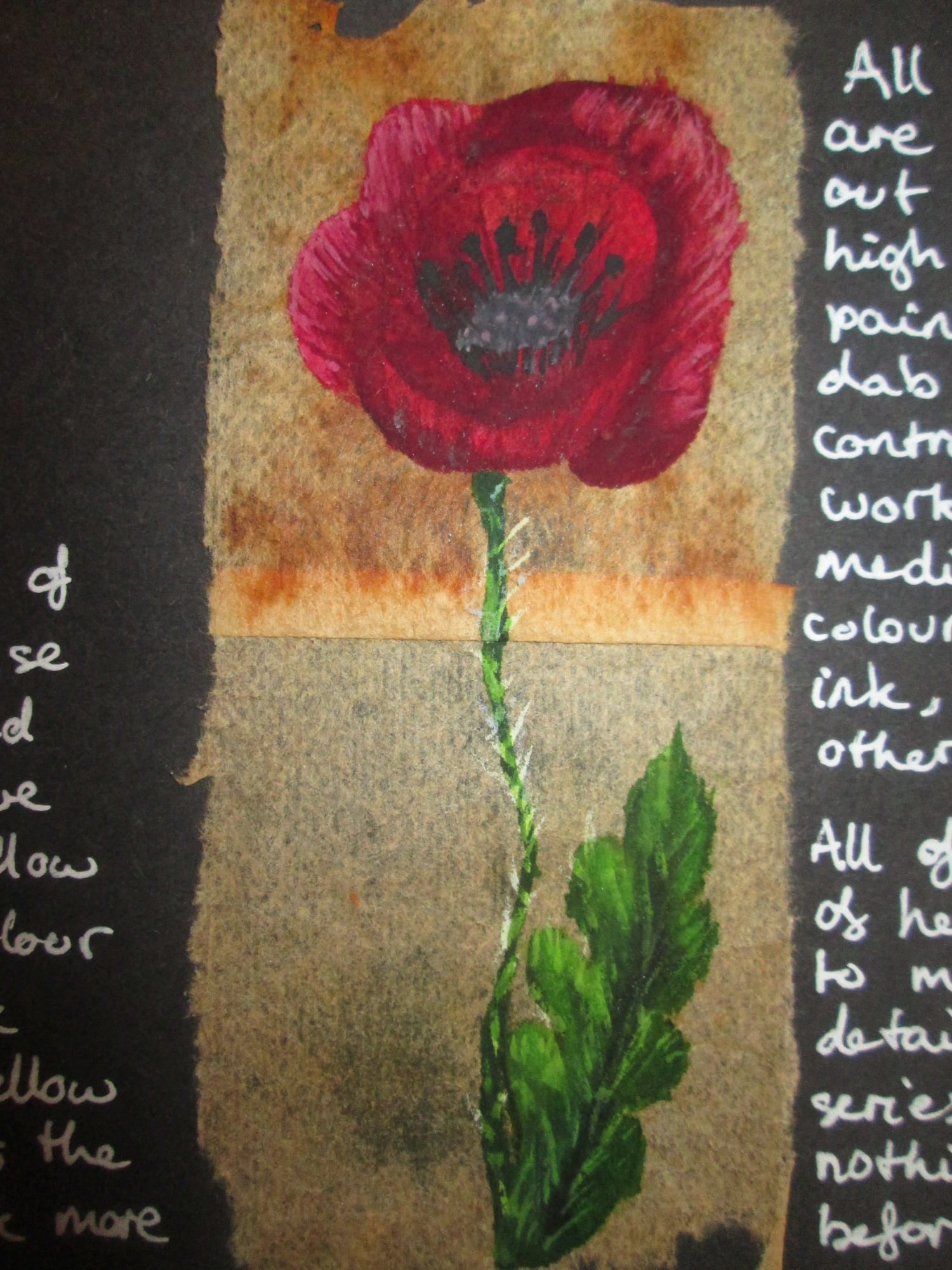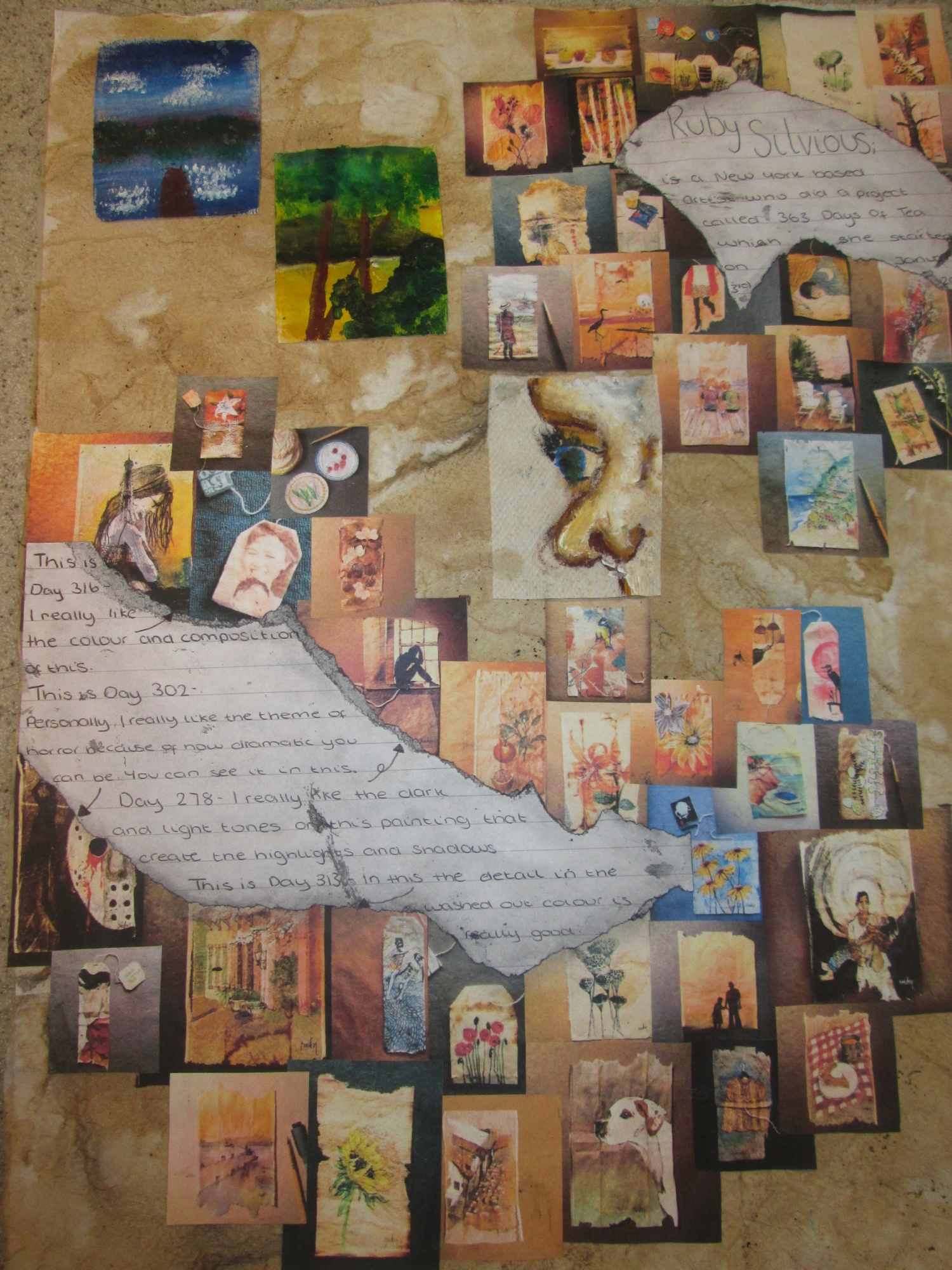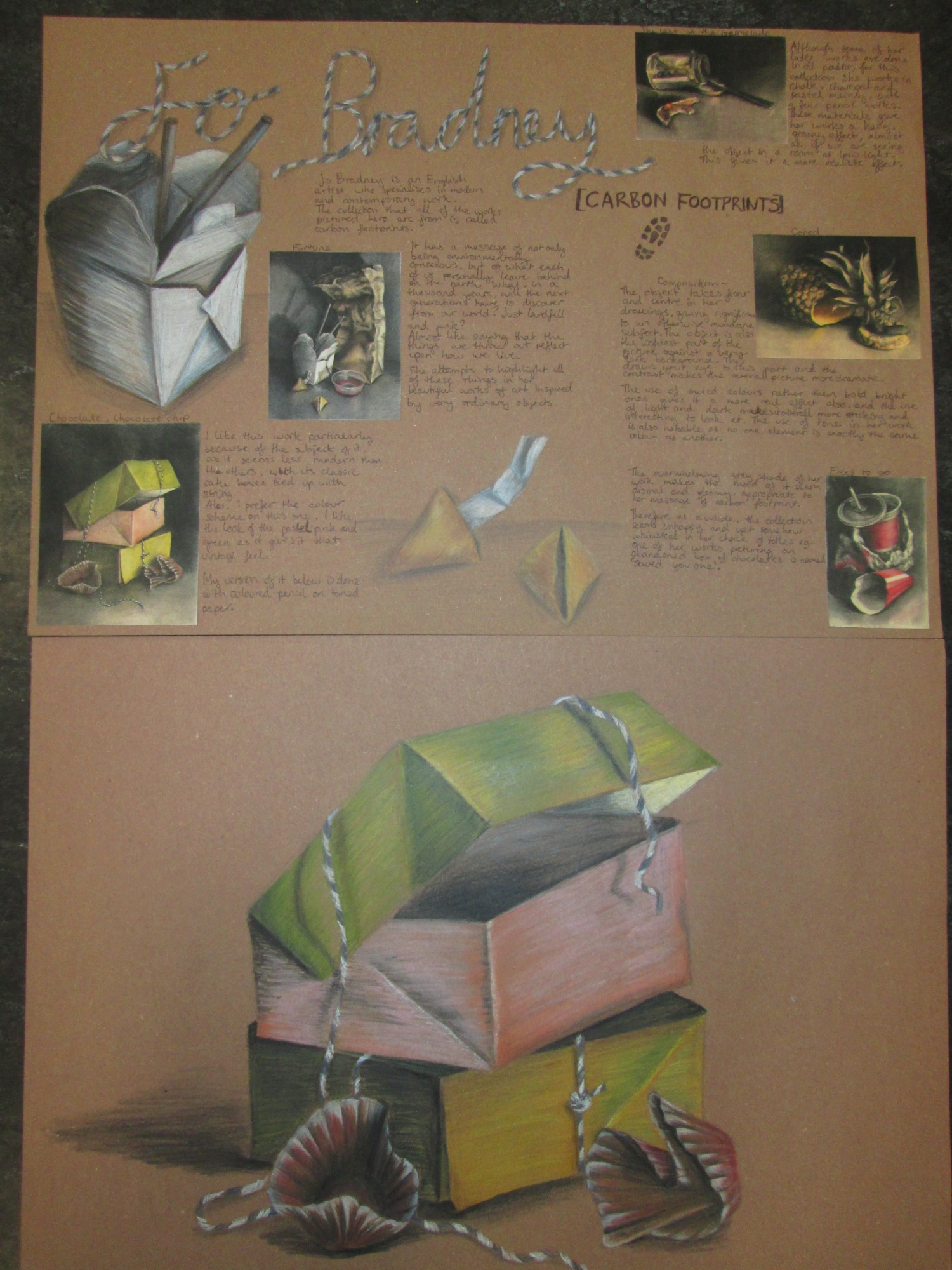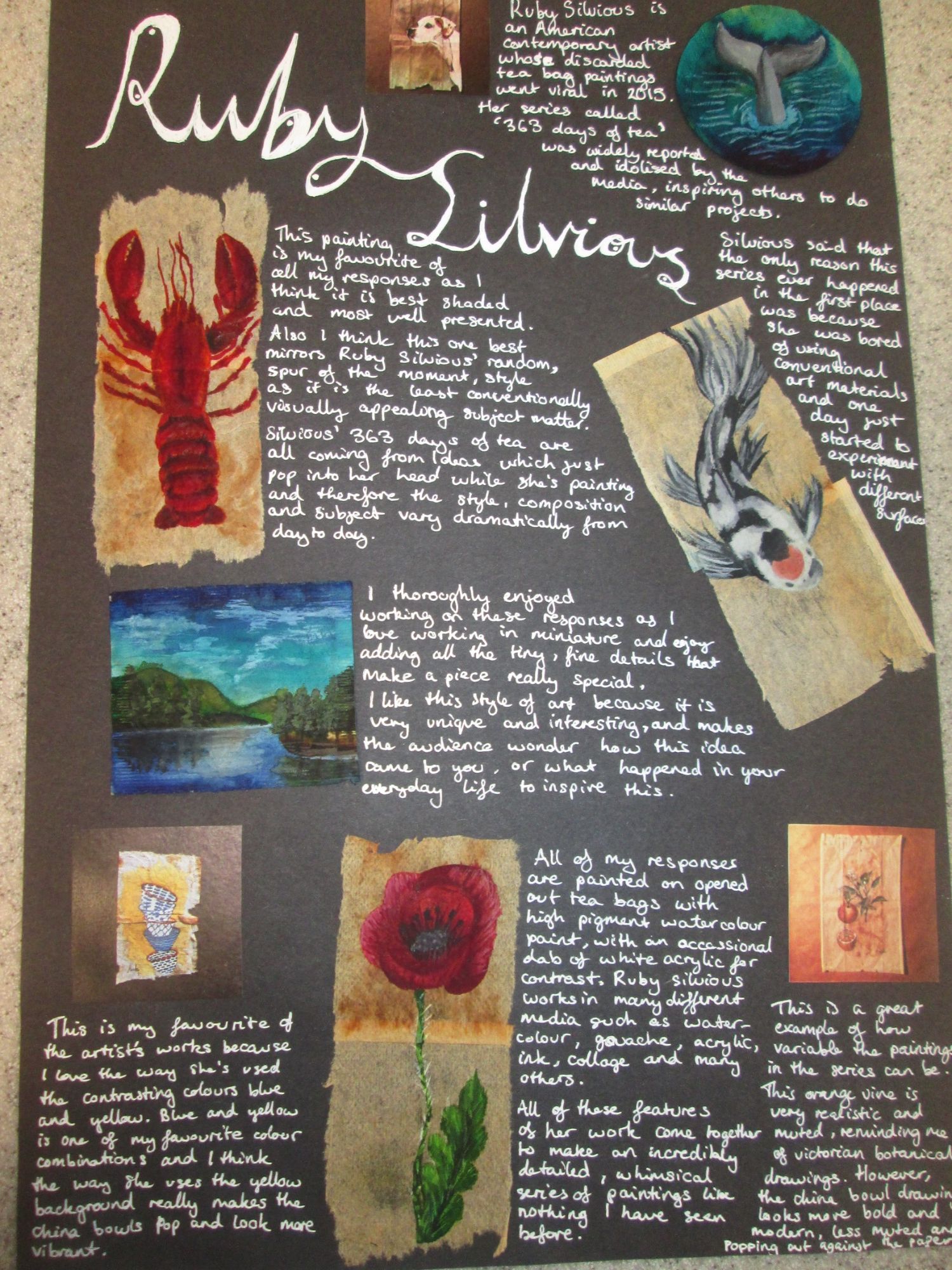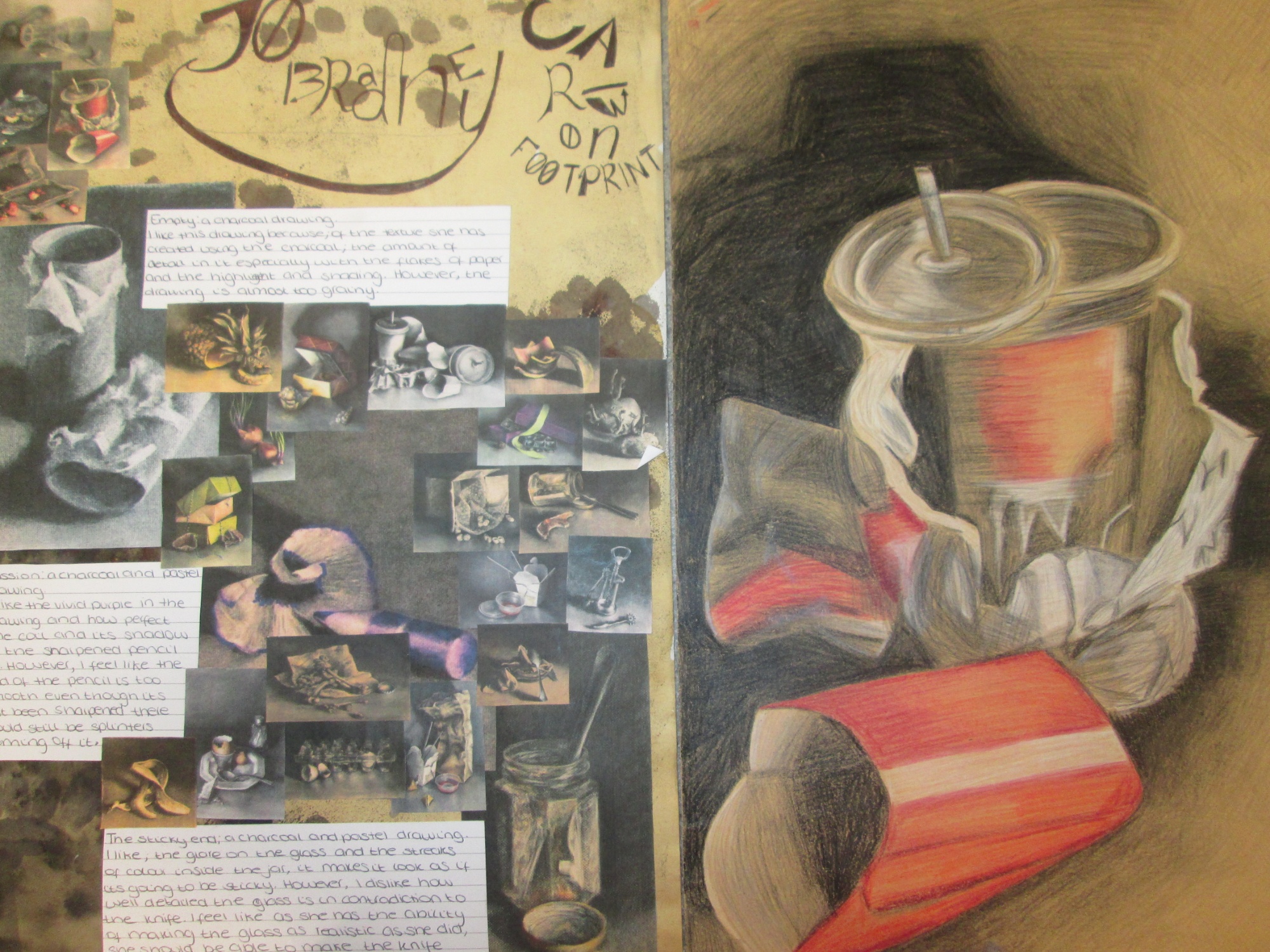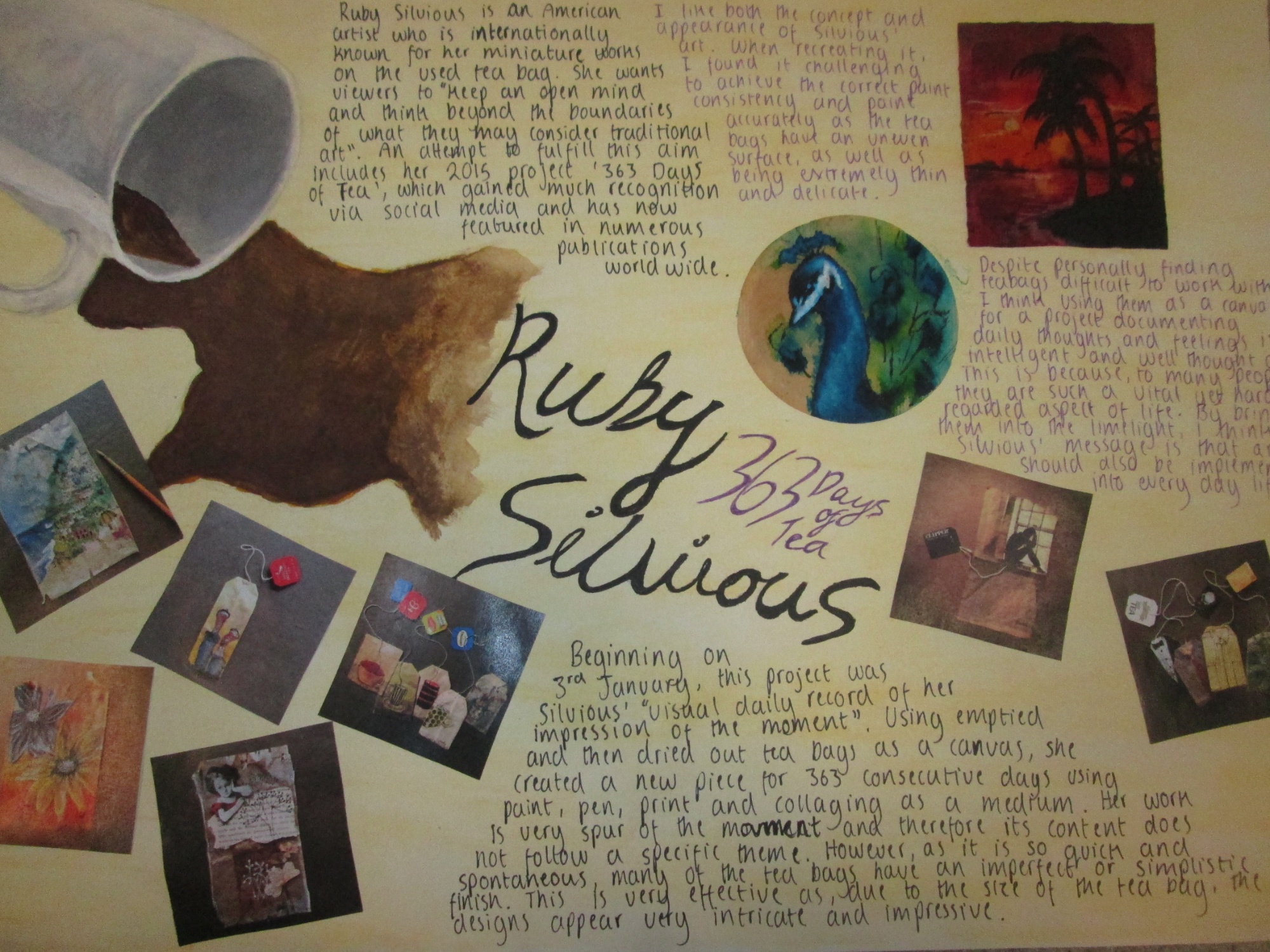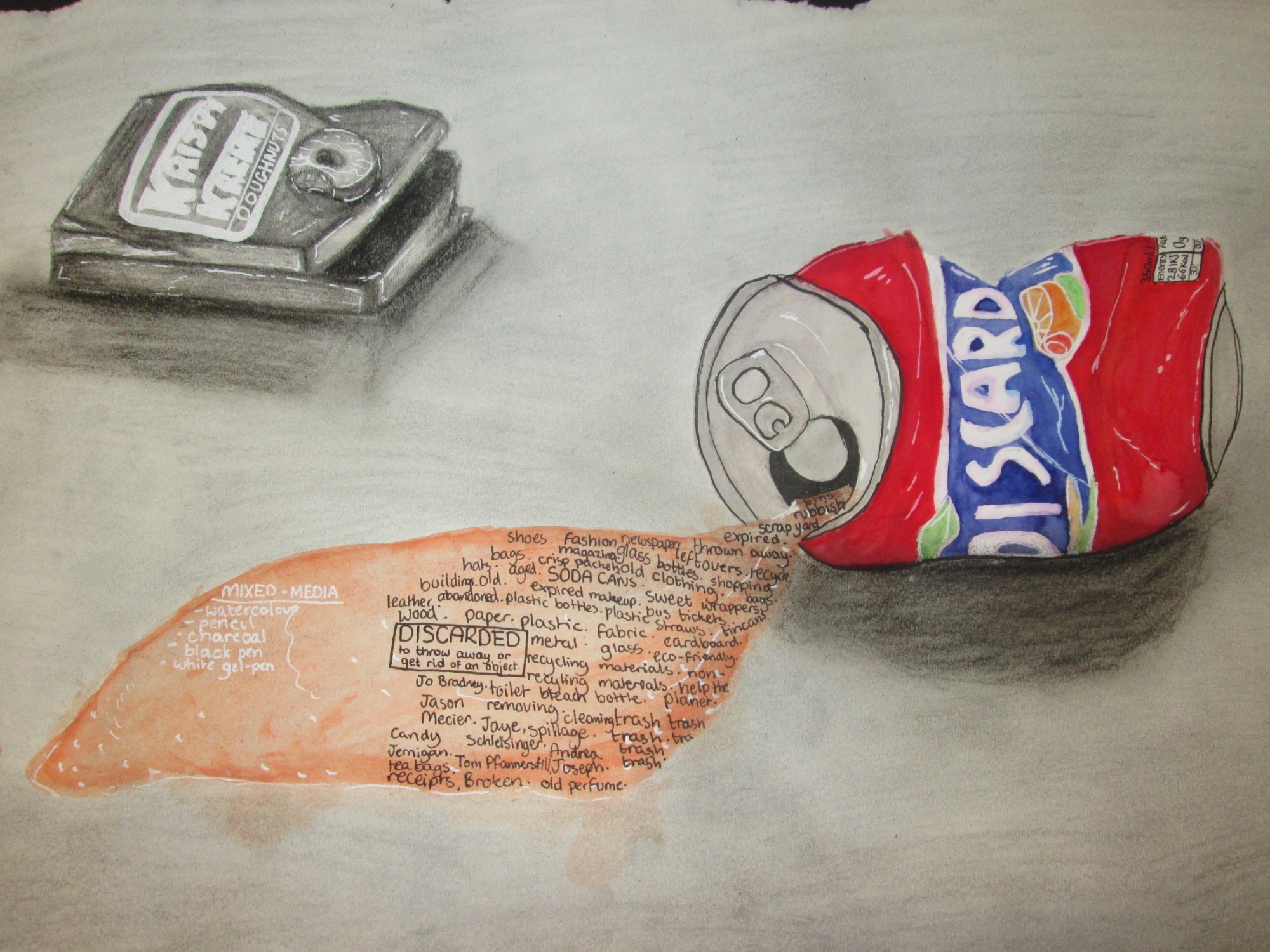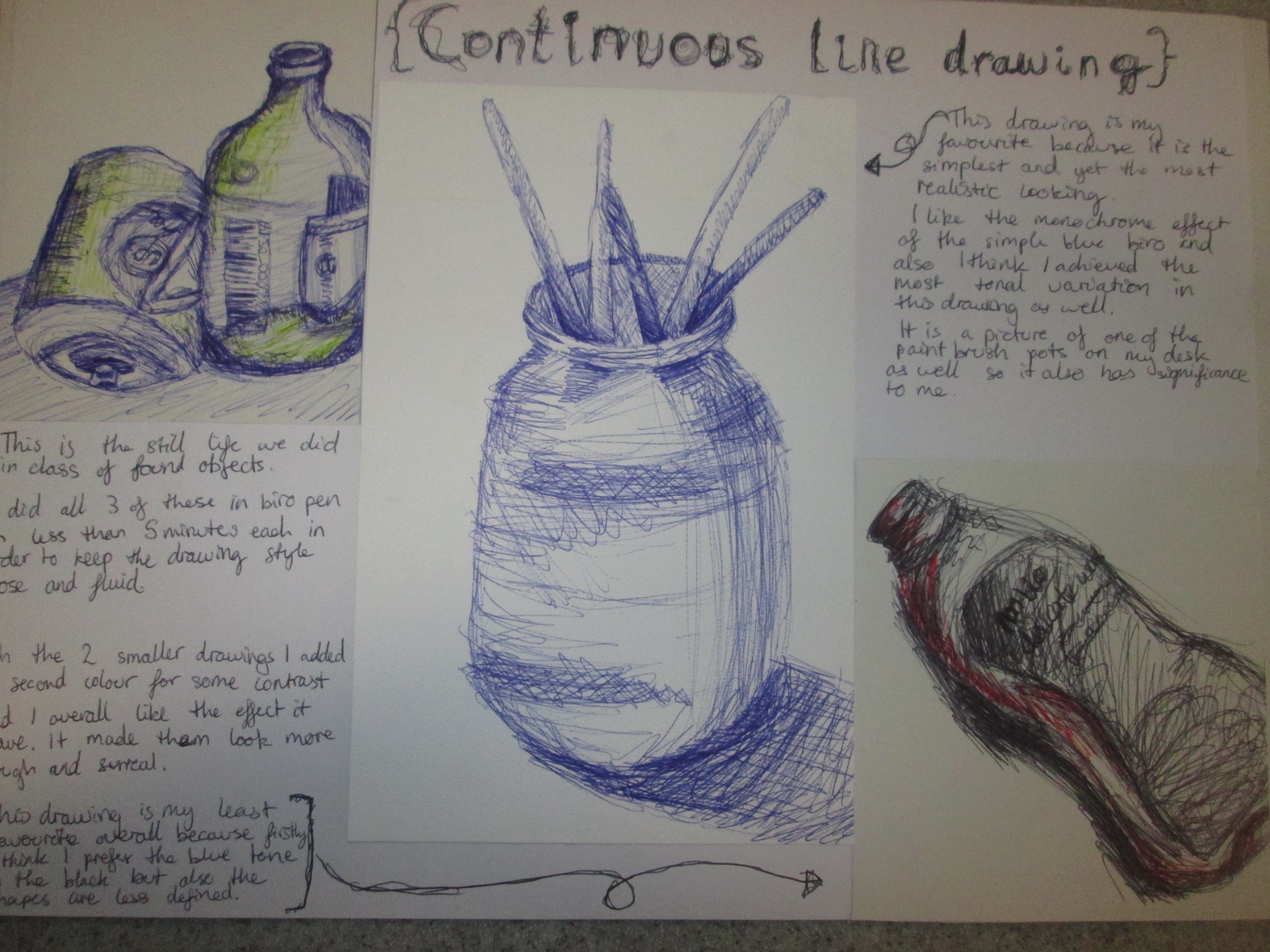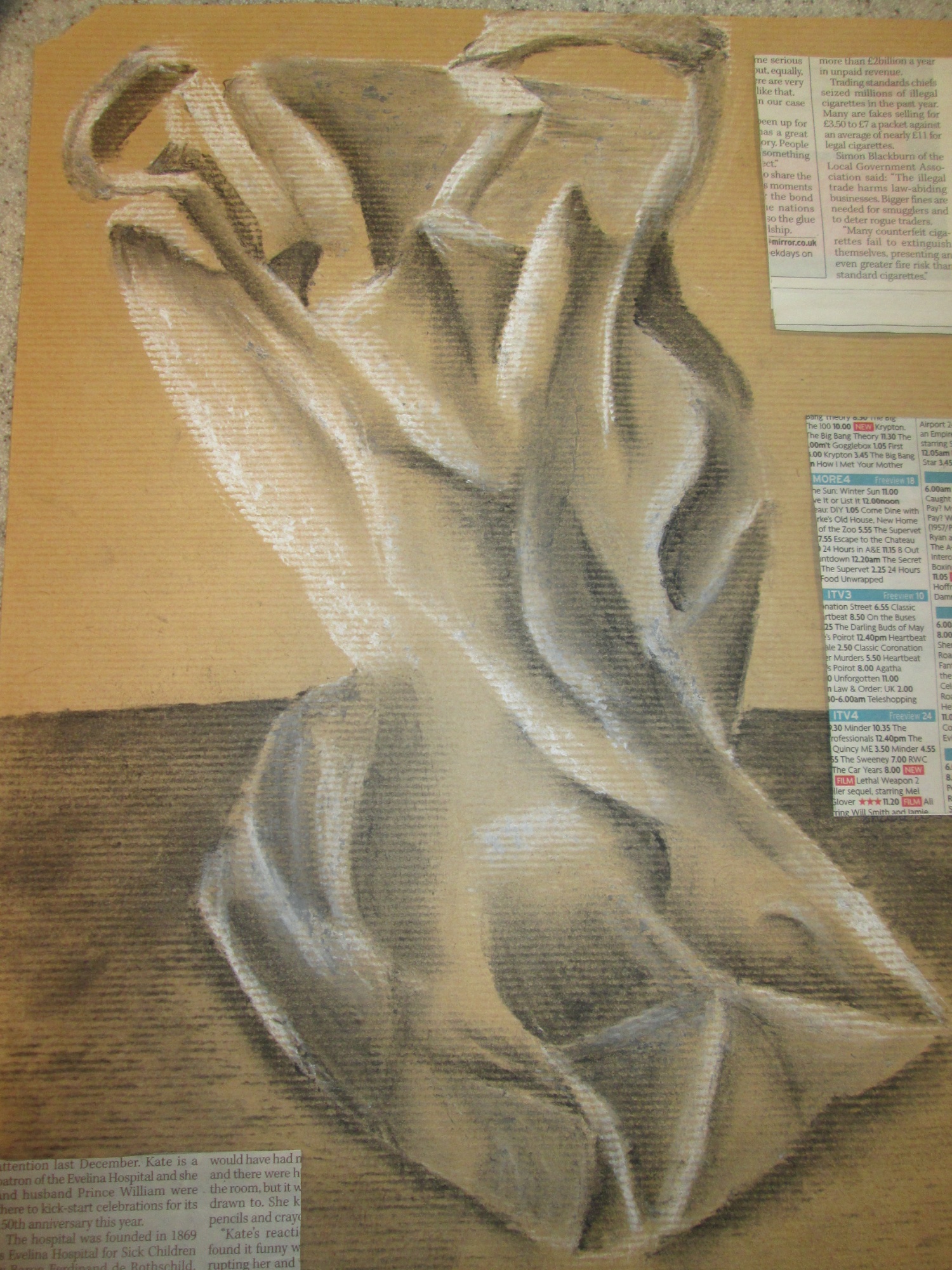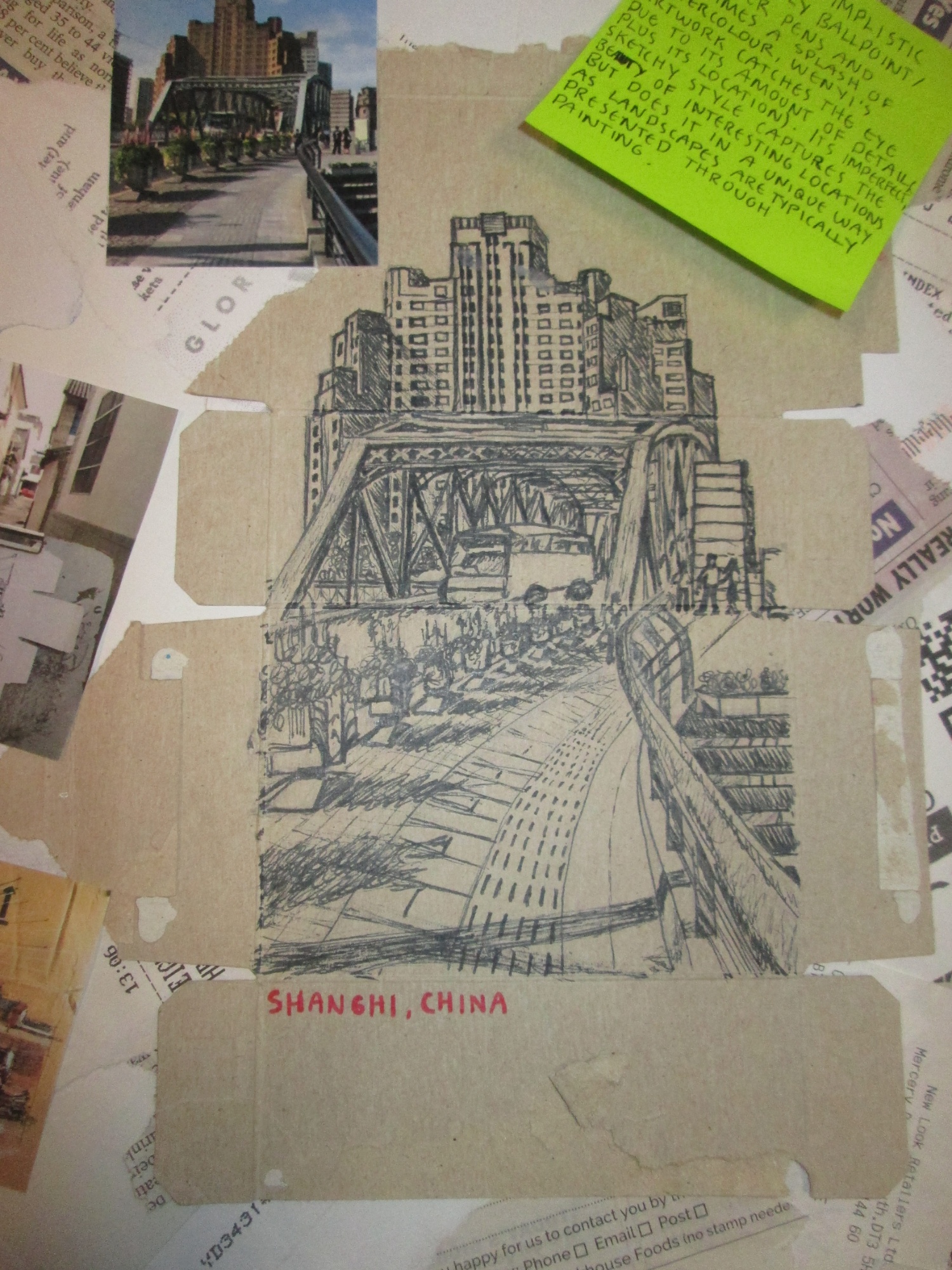 Dry point prints
Going further, students have developed their original drawings into dry point prints with some fantastic results! It's a method that involves scratching an image into a plate with a pointed tool. These lines create a burr that holds ink, meaning that the print reveals the drawing.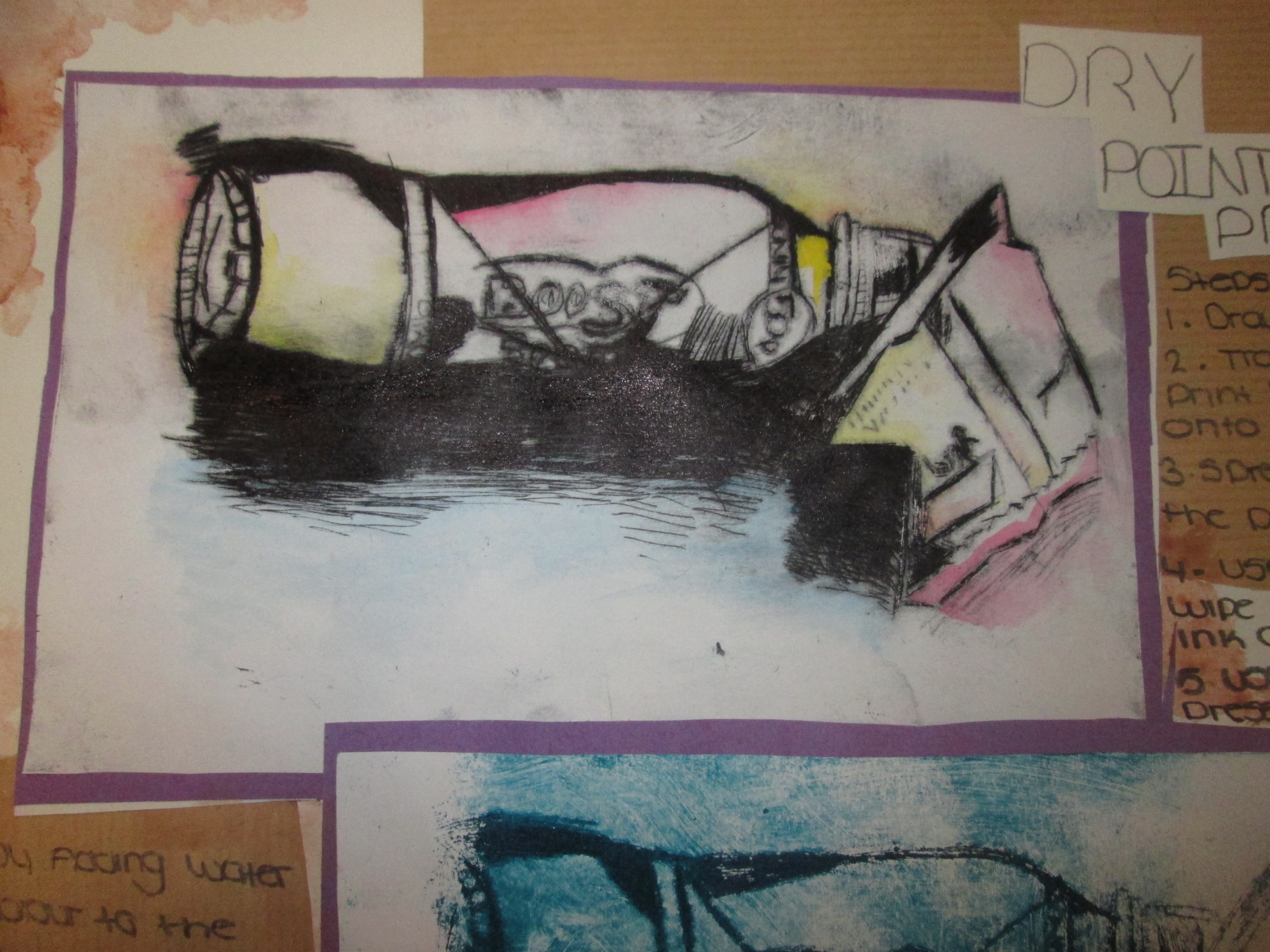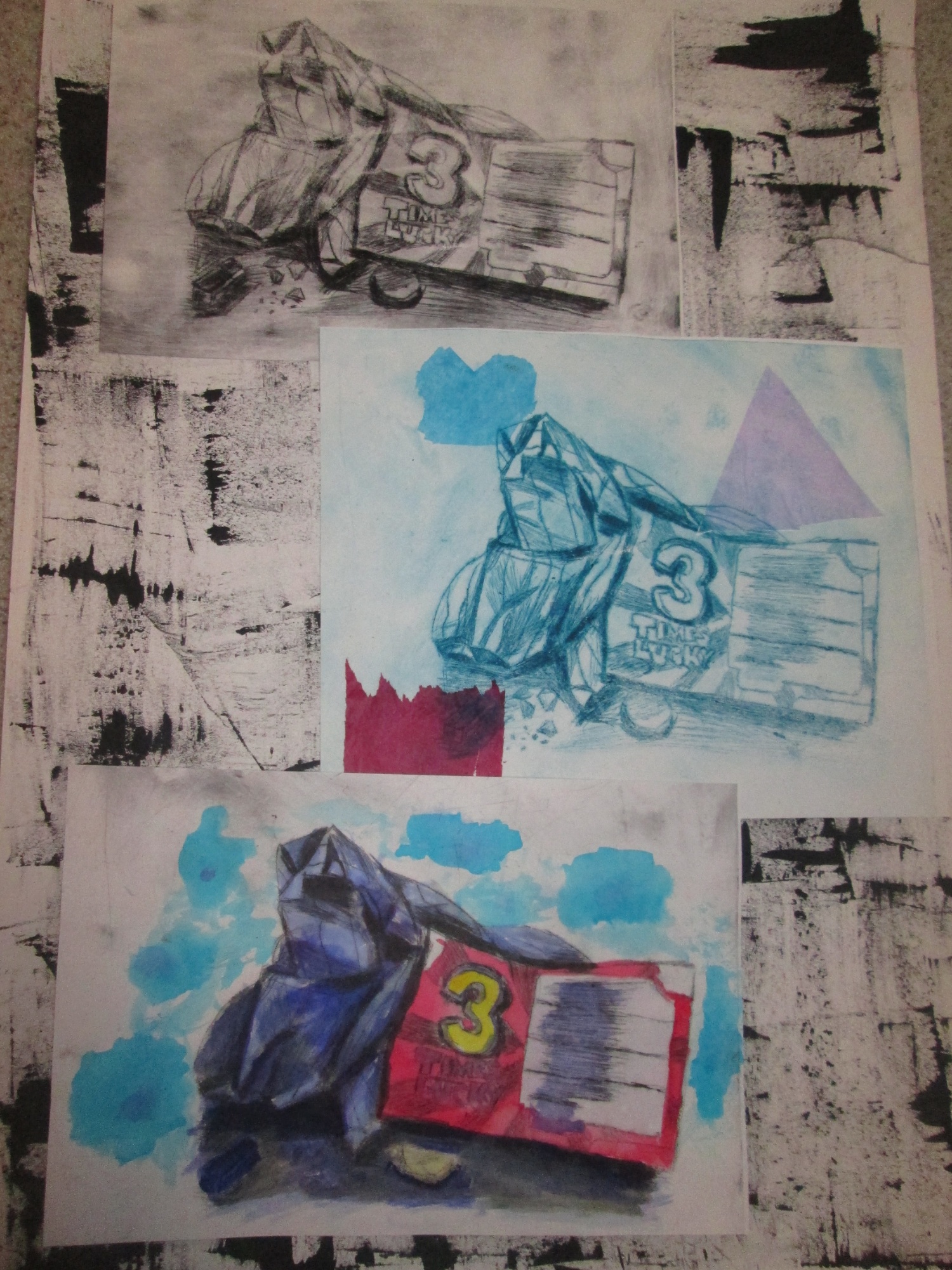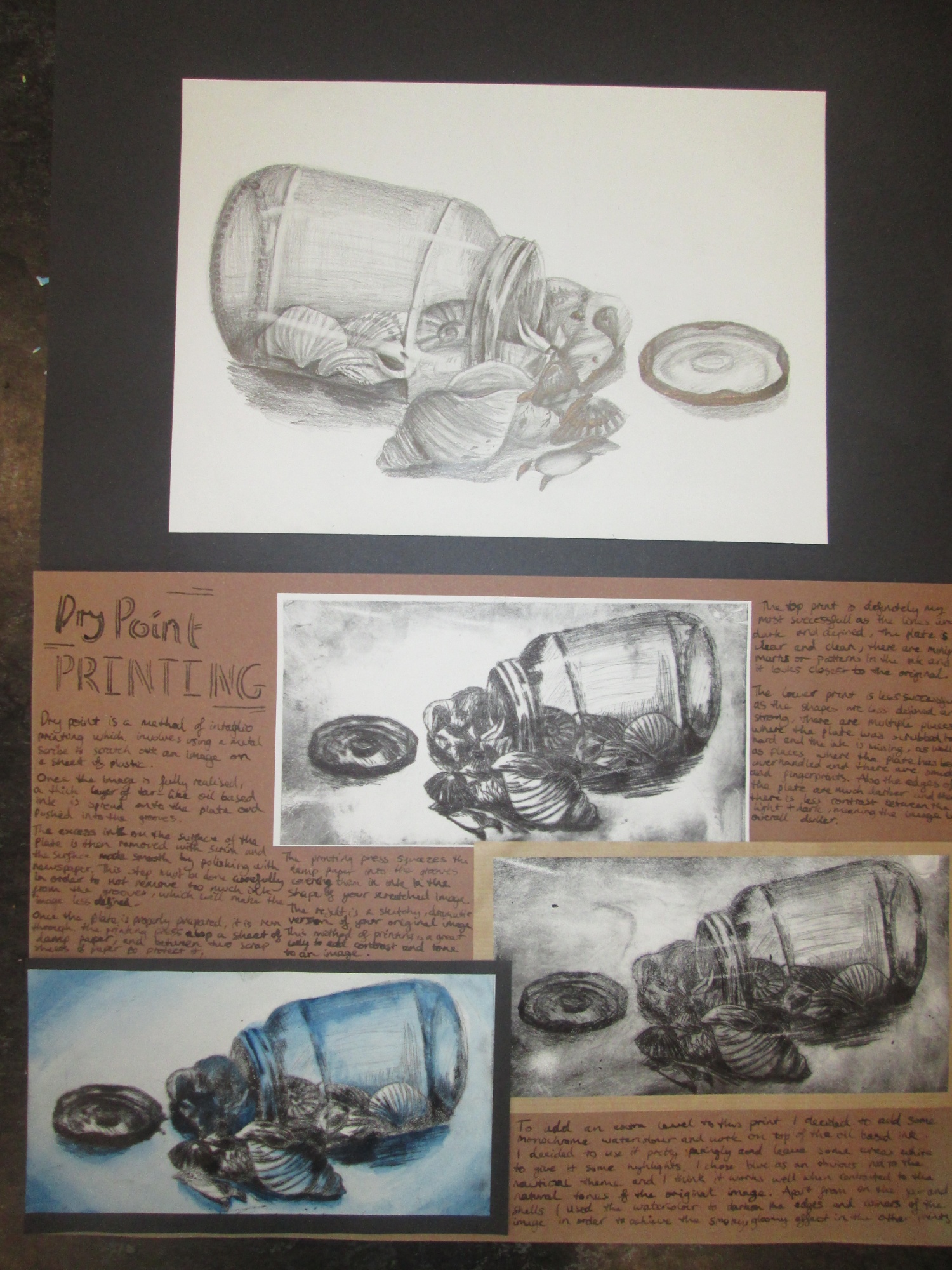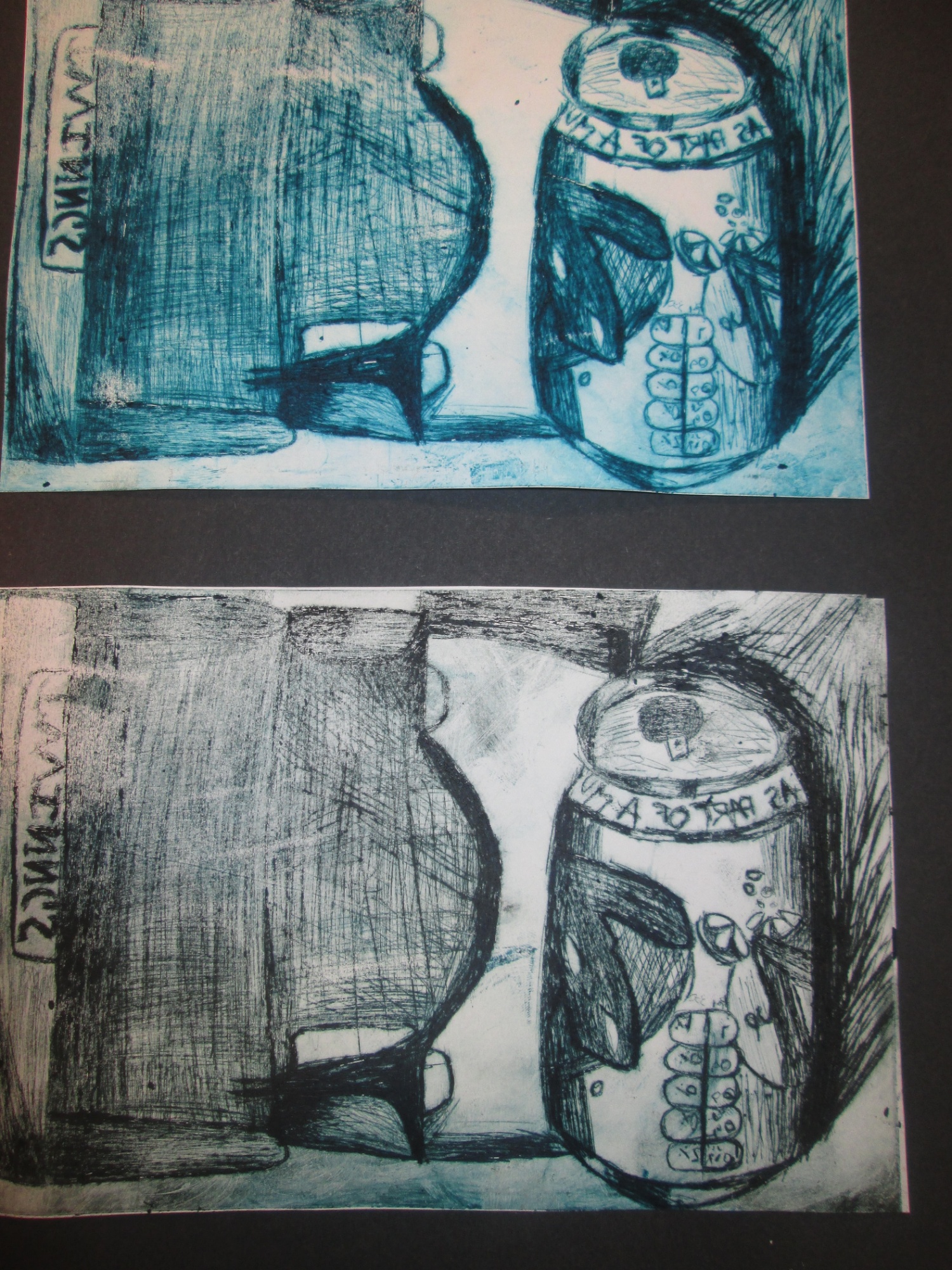 Extra-curricular information
The department and individual staff run sessions after schools on most days as well as during lunchtime. Holiday sessions are also run near to exam times.