Supporting students
Fullhurst staff go 'above and beyond' to support students with a wide variety of additional opportunities, interventions and activities.

The English department are encouraging students to develop a love of reading
Our aim is for students at Fullhurst to develop a love of reading and writing, becoming confident and skillful communicators, with a strong appreciation of the English language. We equip students with the skills they need to realise their ambitions once they leave school, as well as giving them the opportunity to explore new ideas and cultures through the literature that they study. Our Key Stage 3 curriculum has recently been re-designed to include more independent reading. Students have a dedicated 'reading for pleasure' hour once a fortnight. This takes place in the college's newly refurbished library and students read a range of authors, including David Walliams, Bali Rai, Suzanne Collins and JK Rowling, either as traditional books or using the college's Kindles. During this time, students are encouraged to see reading as a pleasurable activity and develop a love of reading which, in turn, promotes higher levels of literacy.

Accelerated Reader scheme
As part of Fullhurst's commitment to both the Communication Faculty's reading for pleasure scheme and disadvantaged pupils, we have invested in the Accelerated Reader scheme, which is designed to personalise the reading experience for every student as well as aiding fast progress with reading. This programme will be offered to struggling or reluctant readers in years 7 and 8.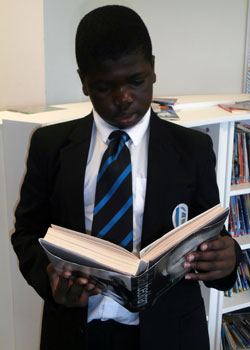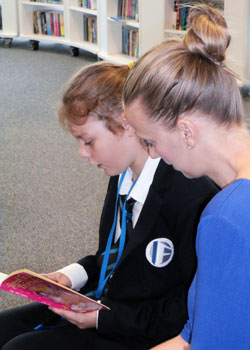 Small group reading
Selected students with previously low reading ages are taking part in small group reading sessions twice a week during form time. This scheme is aimed at developing each student's reading ability and confidence. The small group setting provides students with a nurturing environment in order to build their skills and make progress.

Peer to peer form time reading
We have recently launched a peer to peer form time reading session in which lower attaining KS3 students are matched with KS4 students in order to support their development in reading. This ensures that each KS3 student receives an extra 20 minutes of one-to-one reading per week. The sessions are also providing KS4 students with an opportunity to develop skills that will stand out on their CV and future college applications.

Period 6 lessons for EAL students
This year has seen the launch of period 6 (after college) sessions for specially selected year 8 students with lower reading ages. The booster sessions, which take place in the library, are designed to focus on the skills and types of texts which are being covered in English lessons.